Inicio > Sala de Noticias > Boletines Noticiosos



May 3, 2016
Sala de Noticias // Boletines Noticiosos
04 de agosto de 2004
The 2004 WOCCU Leadership Institute Ends On High Note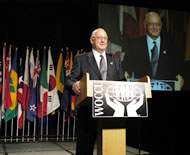 Gary Plank, WOCCU 1st vice chairman acts as the MC for the final day of the Leadership Institute.
Nassau, Bahamas-World Council of Credit Unions' (WOCCU) 7th Annual International Leadership Institute draws to a close today with more breakout sessions, visits to local credit unions, the last general plenary meeting and Caribbean Cultural Night.
Breakout sessions today featured topics such as "Credit Union Mergers: Who's Best Interests are We Serving?" led by Bob Hoel, executive director for the Filene Research Institute, and Barry Forbes, CEO of Westminster Savings Credit Union in Canada; and "Undertaking a Strategic Analysis for Competitive Advantage," led by John Gilbert, CEO of CUSCAL Australia and Ramon Imperial, CEO of Caja Popular Mexicana.
Howard Bogach, CEO of Metro Credit Union of Canada and Gerard Herrling of Member Services Municipal Credit Union of New York spoke on "Disaster Planning: Ensuring Member Service in the Midst of a Crisis," and Dave Richardson, technical development manager and Dave Grace, senior manager associate services, both of WOCCU, attempted to answer the question, "Risk- Based Capital: Will Basel II Help or Hurt?"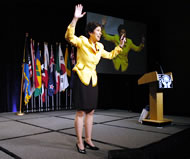 Jane Sanders gives an overview of the 3 Pillars of Authentic Leadership
After these sessions, participants were treated to a lively presentation by Jane Sanders, president of Authentic Leadership, on "The Three Pillars of Authentic Leadership," the keynote speaker of the final general plenary meeting. "Confidence, creativity and balanced communication skills" are what Sanders believes lay the foundation for every successful leader. Her remarks were simple and inspiring, and received a strong response from the audience.
The Institute has once again been a great success, with credit union leaders coming away with new knowledge, new connections and a renewed commitment to credit union excellence. Arthur Arnold WOCCU president and CEO thanked the attendees noting, "It is each and every participant that has made this conference so successful. Without the active participation from you, the attendees, the challenges, goals and objectives of our movements would not be addressed as a collective."
Participants were then given the special opportunity to visit local credit unions and observe the way they are structured and operated. Paradise Island Resort and Casino Co- operative CU, Bahamas Law Enforcement Co- operative CU, Public Works Co-operative CU, Teachers & Salaried Workers Co-operative CU and National Workers Co-operative CU hosted participants, giving them the opportunity to gain insights that will help them better serve their own credit unions.
The final conference event, Caribbean Night festivities will take place this evening. A reward for everyone's efforts over the past four days, Caribbean Night will entertain all with music, dancing, and performances by "the Queen of Fire" and "the King of Limbo."
El Consejo Mundial de Cooperativas de Ahorro y Crédito es la asociación gremial y agencia de desarrollo para el sistema internacional de cooperativas de ahorro y crédito. El Consejo Mundial promueve el crecimiento sustentable de las cooperativas de ahorro y crédito y otras cooperativas financieras en todo el mundo a fin de facultar a las personas para que mejoren su calidad de vida a través del acceso a servicios financieros asequibles y de alta calidad. El Consejo Mundial realiza esfuerzos de defensa activa en representación del sistema global de las cooperativas de ahorro y crédito ante organizaciones internacionales y trabaja con gobiernos nacionales para mejorar la legislación y la regulación. Sus programas de asistencia técnica introducen nuevas herramientas y tecnologías para fortalecer el desempeño financiero de las cooperativas de ahorro y crédito y profundizar su alcance comunitario.
El Consejo Mundial ha implementado 290 programas de asistencia técnica en 71 países. A nivel mundial, 57,000 cooperativas de ahorro y crédito en 105 países atienden a 217 millones de personas. Obtenga más información sobre el impacto global del Consejo Mundial en www.woccu.org.

Teléfono: (608) 395-2000