USAID Taps WOCCU to Develop Integrated "Toolbox" for Ag and Rural Finance Outreach
October 01, 2010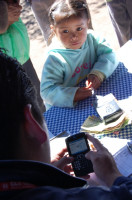 The CDP program will expand upon WOCCU's credit union outreach methodologies, including Semilla Cooperativa, which was developed by WOCCU's rural finance program in Mexico. Credit union field officers there are using personal digital assistants (PDAs) to provide financial services in members' communities.
MADISON, Wis. — The U.S. Agency for International Development (USAID) has awarded World Council of Credit Unions (WOCCU) US$4 million to implement a five-year Cooperative Development Program (CDP) with credit unions in Guatemala, Mexico and Kenya. The program will focus on creating and testing agricultural and financial tools to improve rural economic and financial sector development, livelihoods and food security. The resulting "toolbox" for credit unions will include a replicable and scalable methodology to meet the financial service needs of small farmers and agribusinesses and increase their access to markets, inputs and technical assistance for production.
Credit unions face a number of challenges serving rural areas, where dispersed populations rely on extremely variable income, limited or no financial services and inadequate market information. Credit unions often struggle to develop and deliver appropriate, high quality products and services for farmers and rural entrepreneurs while keeping transaction costs low and maintaining an economic margin. At the same time, legal, regulatory and policy frameworks can prohibit product development and certain forms of outreach. Without the proper tools to grow, agricultural and agribusiness development has remained stagnant in many rural farming communities.
"Credit is a crucial component to increasing the income of rural producers, but credit alone does not always solve economic problems," said Brian Branch, WOCCU executive vice president and COO. "With the CDP program, we apply an innovative approach that addresses both the financial needs and market barriers for rural producers in a more integrated way than we and other development organizations have previously tried."
WOCCU's program will bring together financial and agricultural technical services and employ information technology (IT) outreach solutions to stimulate rural economic growth. The technology-based delivery systems and new agricultural products developed through CDP will enable small producers to smooth their incomes and increase production.
WOCCU will draw on its successful value chain finance experience in Peru, rural finance approach in Mexico and IT-based delivery systems in Colombia, Guatemala, Kenya, Mexico and Rwanda to develop the toolbox. During the first two years of the CDP, WOCCU will work with credit unions in Guatemala and Mexico to create and document the use of new financial products, services and delivery mechanisms for value chains and rural producers. Credit unions in Kenya will implement the methodology in the final three years of the program to test its replicability.
WOCCU has participated in USAID's CDP in varying capacities for 30 years. In recent years, WOCCU's CDP developed the first Model Regulations for Credit Unions, supported the launch of a U.S.-Ecuador international shared branching network in collaboration with WOCCU's USAID-funded development program in Ecuador, piloted a credit union remittance outreach program in the United States and implemented an HIV/AIDS peer training program through a teachers' credit union in Kenya.
Throughout the current five-year program, WOCCU will collaborate with partner cooperative development organizations and share lessons learned and achievements with the broader development finance community.
USAID administers the U.S. foreign assistance program providing economic and humanitarian assistance in more than 120 countries worldwide. The CDP is a competitive grant program that responds to the needs of local, host country cooperatives and other member-owned businesses by utilizing the expertise and resources of long-established U.S. cooperative organizations, their members and volunteers.
World Council of Credit Unions is the global trade association and development agency for credit unions. World Council promotes the sustainable development of credit unions and other financial cooperatives around the world to empower people through access to high quality and affordable financial services. World Council advocates on behalf of the global credit union system before international organizations and works with national governments to improve legislation and regulation. Its technical assistance programs introduce new tools and technologies to strengthen credit unions' financial performance and increase their outreach.
World Council has implemented 300+ technical assistance programs in 89 countries. Worldwide, 68,882 credit unions in 109 countries serve 235 million people. Learn more about World Council's impact around the world at www.woccu.org.
NOTE: Click on photos to view/download in high resolution.