Inicio > Sala de Noticias > Boletines Noticiosos



May 2, 2016
Sala de Noticias // Boletines Noticiosos
24 de abril de 2007
USDA Wheat Arrives in Kenya to Fund WOCCU Pro/press/press_rel/pr_images/1177455201.JPGgram
Sale of Wheat Supports Credit Union (SACCO) and Community Development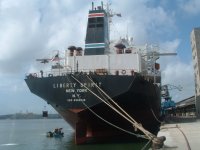 The first USDA shipment of wheat arrives to Mombasa Port in December 2006.
Madison, WI—The shipment has arrived, and now the work on the ground begins. The final United States Department of Agriculture (USDA) wheat shipment to fund a World Council of Credit Unions (WOCCU) project aimed at mitigating the impact of the HIV/AIDS pandemic on affected families in Kenya arrived at Mombasa Port April 1.
Last year, USDA's Food for Progress program awarded World Council 26,610 metric tons of wheat to sell in Kenya to fund a three-year project based on the shores of Lake Victoria. The sale of the US wheat to a local broker in Kenya provided World Council with US$6.1 million to fund a new development program focused on offering much needed agricultural and financial services through credit unions (SACCOs) to HIV/AIDS-affected families in the most afflicted region of Kenya.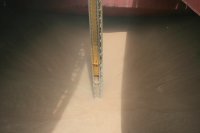 The second and final shipment of wheat offloads from the US Navision Laker ship at Mombasa Port April 1.
The Food for Progress program has major impact both at home and abroad. On the home front, the program helps expand US agricultural exports in the short term and can build the foundation for future US sales in countries where the donated commodities are sold. By shipping on American flag carriers, it also supports the American maritime industry.
"Despite recent criticisms of food aid programs, the fact is that Kenya is not growing enough wheat to feed itself," explained Sam Dunlap, WOCCU's consultant and managing director of International Agricultural Services. "This public-private partnership focuses on achieving positive sustainable results that benefit both countries. We are introducing a quality, high- protein product that local importers otherwise would not be able to access."
Local production in Kenya meets just 18% of the country's demand for wheat. By selling the US wheat on the local market at a fair price to fund its new SACCO development program, WOCCU not only makes more food available in Kenya today, but it also creates the foundation to build a better future in the country.
"As far as sustainable projects go, World Council is at the forefront," said Dunlap, who is also retired from the Foreign Agricultural Service.
Proceeds from the sale of the US wheat will fund a variety of services tailored to assist families affected by HIV/AIDS. Individual development accounts (IDAs) for education will help vulnerable households fund secondary school education for their children, and farmers—who comprise 75% of Kenya's population—will have access to funding for agricultural business development and training in labor-saving and conservation technologies. World Council will also provide technical assistance to strengthen SACCO system operations in western Kenya.
World Council is working on various fronts to provide Kenyans with opportunities through SACCOs. In addition to the USDA-funded program, its other programs in Kenya are advising the government on establishing regulatory standards for SACCOs and assisting them with meeting those future standards, devising development tools for rapid SACCO growth and outreach to the poor and training staff to deliver an HIV/AIDS peer education program. The recently formed IRnet® Coop Kenya also provides international remittance services through Kenyan SACCOs, and the Strathmore-WOCCU African Management Institute trains SACCO leaders from across the continent in credit union best practices.
El Consejo Mundial de Cooperativas de Ahorro y Crédito es la asociación gremial y agencia de desarrollo para el sistema internacional de cooperativas de ahorro y crédito. El Consejo Mundial promueve el crecimiento sustentable de las cooperativas de ahorro y crédito y otras cooperativas financieras en todo el mundo a fin de facultar a las personas para que mejoren su calidad de vida a través del acceso a servicios financieros asequibles y de alta calidad. El Consejo Mundial realiza esfuerzos de defensa activa en representación del sistema global de las cooperativas de ahorro y crédito ante organizaciones internacionales y trabaja con gobiernos nacionales para mejorar la legislación y la regulación. Sus programas de asistencia técnica introducen nuevas herramientas y tecnologías para fortalecer el desempeño financiero de las cooperativas de ahorro y crédito y profundizar su alcance comunitario.
El Consejo Mundial ha implementado 290 programas de asistencia técnica en 71 países. A nivel mundial, 57,000 cooperativas de ahorro y crédito en 105 países atienden a 217 millones de personas. Obtenga más información sobre el impacto global del Consejo Mundial en www.woccu.org.

Contacto principal:
Rebecca Carpenter
Correo electrónico:
rcarpenter@woccu.org
Teléfono:
+1-608-395-2031