US CU Volunteers Learn Corporate Social Responsibility from Dominican Counterparts at CUNA Volunteer Institute
May 28, 2013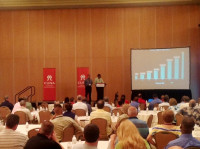 Victor Miguel Corro (left), Worldwide Foundation for Credit Unions vice president, provides translation for Ramón Díaz, Maimón board member, who shared his credit union's experience in corporate social responsibility.

PUNTA CANA, Dominican Republic — Last week, more than 100 U.S. credit union board members learned lessons in social responsibility from US$58 million credit union Maimón in Punta Cana, Dominican Republic. World Council of Credit Unions facilitated the training with Maimón as a portion of CUNA Volunteer Institute for the second year in a row. Maimón is affiliated with Asociación de Instituciones Rurales de Ahorro y Crédito, Inc. (AIRAC), World Council's member association in the Dominican Republic.
Ramón Díaz, Maimón board member, delivered an opening presentation on the credit union's inspirational story and specific ways in which they help their community. In the midst of a banking crisis that had left many families without savings, 26 members with US$300 founded Maimón in 1990. Today, Maimón has 60,000 members and works on the sustainable development of their communities by establishing what they call "social responsibility reserves." This fund is used to meet basic needs, improve schools and offer cultural events in the community. Maimón has also partnered with other organizations to develop a "business incubator," which provides micro-entrepreneurs with start-up capital loans as well as free advice on business planning, financial management and accounting.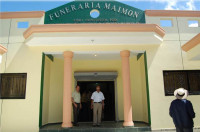 Maimón manages a funeral home for members who cannot afford to bury their loved ones.
"It is great to share the passion that we have for development and to show exactly how the credit union can become the hub in our town," Díaz said. "We are with our members from the moment they are born and throughout their lives."
One of the most poignant examples of Maimón's community involvement is the construction and management of a funeral home for those who cannot afford to bury their loved ones. Every member of Maimón is granted access to this service, including a hearse and crypt, for a monthly fee of $0.40.
"Maimón's commitment to the growth and prosperity of its community readily encompasses the values that all credit unions strive toward," stated Kevin Smith, Credit Union National Association (CUNA) director of volunteer education. "It's an invaluable benefit for our volunteers to be able to witness this eye-opening testament to how engaged a truly community-first credit union can be."
Following the presentation, CUNA pledged US$1,000 toward Maimón's social responsibility efforts, meeting last year's donation.
Victor Miguel Corro, Worldwide Foundation for Credit Unions vice president, provided translation at the event and gave insight into the Dominican economy and credit union system.
"Part of what we do at World Council is connect peers in the industry, and having Ramón participate in the Leadership Institute was key to this priority," Corro said. "Maimón provides an excellent example of a mission-driven organization, and Ramón received excellent feedback and a lot of questions from the participants."
Corro also manages World Council's International Partnerships Program, through which AIRAC receives advocacy support from the Wisconsin Credit Union League.
CUNA Volunteer Institute gathers volunteers each year who serve on credit union boards across the United States. Those in attendance gain a thorough understanding of issues affecting their credit unions, including enterprise risk management, economic trends and strategies for reaching a younger demographic. Participants also have the opportunity to earn Certified Credit Union Volunteer (CCUV) designation as expert board members.
For information on connecting with credit unions abroad through a World Council program, visit www.woccu.org/customizedinternationaltraining.
World Council of Credit Unions is the global trade association and development agency for credit unions. World Council promotes the sustainable development of credit unions and other financial cooperatives around the world to empower people through access to high quality and affordable financial services. World Council advocates on behalf of the global credit union system before international organizations and works with national governments to improve legislation and regulation. Its technical assistance programs introduce new tools and technologies to strengthen credit unions' financial performance and increase their outreach.
World Council has implemented 300+ technical assistance programs in 89 countries. Worldwide, 68,882 credit unions in 109 countries serve 235 million people. Learn more about World Council's impact around the world at www.woccu.org.