Inicio > Sala de Noticias > Boletines Noticiosos



May 3, 2016
Sala de Noticias // Boletines Noticiosos
30 de marzo de 2004
US Federal CU Signs-up for WOCCU's IRnet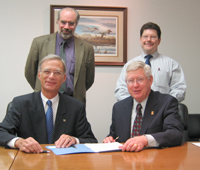 L-R: (seated) Arthur Arnold, WOCCU president and CEO; and USFCU president/CEO, Bill Raker sign IRNet documentation, as (standing) Brian Branch, WOCCU COO and Greg Berry, vice president of USFCU Research and Development Greg Berry look on.
Madison, WI—Last week US Federal Credit Union signed-up for World Council of Credit Unions' IRnet, the International Remittance Network. US Federal has become the 227th credit union in the United States and the 2nd in Minnesota, to provide affordable remittance services to members and the community. World Council created the International Remittance Network over four years ago to lower the outrageously high cost for immigrant workers to make remittances to their families back home.
"Last year, more than 400,000 remittance were made through IRnet. On average, at least using IRnet saved $10.00 per transaction. That's $4 million in the pockets of the people on the receiving end. That's "real" development money, reaching for 100% the people that need it most," concluded WOCCU's president & CEO, Arthur Arnold!
William Raker, US Federal president and CEO explained, "We feel that there is a great need for IRnet, especially because our credit union is becoming much more global in our outreach. We have immigrant members that need a convenient, effective and economical way to send remittances. Providing products like IRnet is why credit unions exist."
US Federal has identified underserved areas in four of their branches. Minneapolis will just be the first branch where we will be offering IRnet.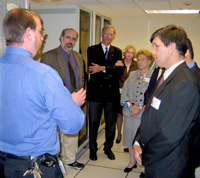 USFCU Network Telecom Manager Jon Hallberg and Senior Vice President/Chief Technology Officer Joanne Johnson answer questions about the credit union's operating systems.
US Federal Credit Union currently serves 72,000 members through 12 retail branches. It has $520 million in assets and is adding 4 underserved groups to its fields of membership. Chartered in 1925, US Federal is the oldest credit union in Minnesota and serves members in 38 states. US Federal serves members in the Twin Cities, Atlanta and Memphis.
In a recent Washington Post article experts noted, "Improving the formal financial sector will bring millions of people into the banking system. The "unbanked," as people without bank accounts are called, have fewer opportunities for economic development. Reforming alternative remittance systems is not just a powerful law enforcement strategy; it is a way to improve the lives of millions of vulnerable people around the world."
During a signing ceremony an agreement between World Council and US Federal Credit Union was signed for IRnet services. At the conclusion of the ceremony a Paraguay credit union delegation that was visiting Minnesota's credit unions received a closer look at computer software, hardware and learned how the main office of US Federal Credit Union is connected to its braches.
Raker concluded, "We were delighted that we could be involved in the Paraguay exchange and that Mr. Arnold and Mr. Branch were able to be at the IRnet signing."
El Consejo Mundial de Cooperativas de Ahorro y Crédito es la asociación gremial y agencia de desarrollo para el sistema internacional de cooperativas de ahorro y crédito. El Consejo Mundial promueve el crecimiento sustentable de las cooperativas de ahorro y crédito y otras cooperativas financieras en todo el mundo a fin de facultar a las personas para que mejoren su calidad de vida a través del acceso a servicios financieros asequibles y de alta calidad. El Consejo Mundial realiza esfuerzos de defensa activa en representación del sistema global de las cooperativas de ahorro y crédito ante organizaciones internacionales y trabaja con gobiernos nacionales para mejorar la legislación y la regulación. Sus programas de asistencia técnica introducen nuevas herramientas y tecnologías para fortalecer el desempeño financiero de las cooperativas de ahorro y crédito y profundizar su alcance comunitario.
El Consejo Mundial ha implementado 290 programas de asistencia técnica en 71 países. A nivel mundial, 57,000 cooperativas de ahorro y crédito en 105 países atienden a 217 millones de personas. Obtenga más información sobre el impacto global del Consejo Mundial en www.woccu.org.

Teléfono: (608) 395-2000