Vermont and Peru Credit Unions Sign Partnership Agreement
December 13, 2007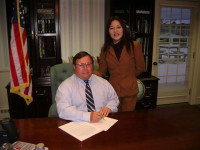 Ron Hance, CEO of Heritage Family Credit Union, seated, and Rocio Miyashiro Kiyan, CEO of Cooperativa de Ahorro y Credito ABACO, sign the partnership agreement on between their two credit unions
RUTLAND, Vt. — In a show of mutual support, a partnership agreement was signed yesterday between Heritage Family Credit Union here and Cooperativa de Ahorro y Crédito ABACO, based in Lima, Peru. The credit-union-to-credit-union (CU2CU) partnership is a byproduct of the partnership between the Association of Vermont Credit Unions and the Federación Nacional de Cooperativas de Ahorro y Crédito del Perú (FENACREP), signed in May in Lima, and part of the World Council of Credit Union's (WOCCU's) International Partnership Program. The arrangement will enable the Peruvian credit union to work closely with their Vermont counterpart to the mutual benefit of both parties.
Rocio Miyashiro Kiyan, CEO of ABACO, and Manuel Rabines, CEO of FENACREP and member of the WOCCU board of directors, traveled to Vermont Tuesday for the event. Kiyan and Ron Hance, president/CEO of Heritage Family CU and a WOCCU board member, formally signed the agreement pledging support on behalf of each of their credit unions.
"We believe the partnership agreement should benefit both parties," Hance said. "ABACO can benefit from our past experience in Vermont, and we can benefit from the unique way in which they approach their membership."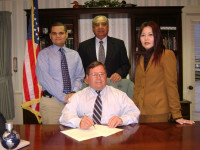 Ron Hance, CEO of Heritage Family Credit Union, seated, and Rocio Miyashiro Kiyan, CEO of Cooperativa de Ahorro y Credito ABACO, standing right, sign the partnership agreement on December 11, 2007. Also present are Manuel Rabines, CEO, Federaci&oacuten; Nacional de Cooperativas de Ahorro y Crédito del Perú (FENACREP) and WOCCU board member, standing center, and Victor Corro, WOCCU International Partnerships Manager, standing left.

The idea of the relationship first evolved out of a trip Hance and other credit union and association staff took to Peru in May. The challenges faced by Peruvian credit unions were similar to those that had earlier faced U.S. credit unions, Hance said.
The three-day meeting led to preliminary plans for helping the relationship between the two country's institutions evolve into one of mutual service, said Hance. An employee exchange program, with staff from both countries' credit unions, will be a central part of the partnership.
"This partnership will be very beneficial because it pulls the two cooperatives together to help one another," said Hance. "This is a good forum for all involved and will lead to highly valued friendships between the two countries' credit union communities."
While in Vermont, Rabines and Kiyan were invited by the Rutland Chamber of Commerce to speak on public access television. The pair also visited several of Heritage Family CU's branches, including a student-run in-school branch, ending their stay with a trip to Burlington to attend an Association of Vermont Credit Unions board meeting.
WOCCU's International Partnership Program currently supports 26 partnerships between U.S. credit union leagues and their counterparts in foreign countries.
World Council of Credit Unions is the global trade association and development agency for credit unions. World Council promotes the sustainable development of credit unions and other financial cooperatives around the world to empower people through access to high quality and affordable financial services. World Council advocates on behalf of the global credit union system before international organizations and works with national governments to improve legislation and regulation. Its technical assistance programs introduce new tools and technologies to strengthen credit unions' financial performance and increase their outreach.
World Council has implemented 300+ technical assistance programs in 89 countries. Worldwide, 68,882 credit unions in 109 countries serve 235 million people. Learn more about World Council's impact around the world at www.woccu.org.