Voluntary Credit Union Supervision Project Underway in Uganda
February 01, 2007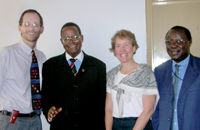 To document their joint program, the SACCO Voluntary Supervision Project, WOCCU and CCA staff met with a number of SACCO representatives as well as government officials. From left to right, John Julian, CCA; Prof. Ephraim Kamuntu, Uganda's Minister of State for Industry and Technology, Caryn Vesperman, WOCCU, and Fred E.G. Mwesigye, Uganda's Commissioner for Co-operatives.
Madison, WI—World Council of Credit Unions, Inc. (WOCCU) and Canadian Co-operative Association (CCA) visited Uganda in late January to document the early stages of their joint program, the SACCO Voluntary Supervision Project.
The three-year joint project, initiated in September 2006, works with the Uganda Co- operative Savings and Credit Union, Ltd. (UCSCU). Funded entirely from money raised within the international credit union system, the program focuses on helping ten Ugandan SACCOs (credit unions) improve their technical capacity and financial stability, with the long- term goal of preparing them for government regulation. The project also includes assisting the government in the development of credit union legislation and regulations.
"The enthusiasm for this project was obvious," said John Julian, international communications and policy director, CCA, "More than 20 SACCOs submitted their applications to UCSCU to be a part of this pilot program and others are coming forward asking when they can join the project."
While in Uganda, Julian and Caryn Vesperman, marketing manager, WOCCU, met with credit union staff and members; Moses Opio Ogal and Wilson Kabanda, UCSCU's chairman and general manager, respectively; as well as Prof. Ephraim Kamuntu, Uganda's Minister of State for Industry and Technology, and Fred E.G. Mwesigye, Commissioner for Co-operatives. All agreed that most Ugandans – 32 percent earning less than $1 a day – are excluded from financial services because retail banks do not want to deal with small accounts, due largely to the expense. One of the answers discussed was forming user-owned financial institutions, or SACCOs, that conform to the international standards of safety and soundness.
The project sets up an independent department within UCSCU to supervise the ten SACCOs and involves training on WOCCU's financial analysis software – PEARLS, adoption of auditing standards and accounting practices consistent with International Accounting Standards, and the development of law specifically for the regulation and supervision of SACCOs.
"Many SACCOs recognize that meeting operational and regulatory standards will be to their benefit," said Vesperman. "They understand they can't be perceived as a 'briefcase office' that's here today and gone with the members' savings tomorrow. They know they need to be run well and responsible for their members' deposits."
Julian and Vesperman documented their visit on video which will debut at WOCCU's World Credit Union Conference in Calgary, Canada, July 29 through August 1. This is the first joint project initiated between CCA and WOCCU in 20 years. Both organizations will provide direct technical assistance through workshops and training. In addition, CCA will handle in- country supervision of the project.
CCA is the national association for more than seven million cooperative and credit union members. CCA began collaborating with UCSCU in 1989 through a Women's Revolving Loan Fund project, which helped women in cooperatives access credit and management training to run their businesses.
WOCCU's former Uganda project, funded by the United States Agency for International Development, ended in 2003. The program strengthened 14 SACCOs in the central part of the country so they could provide more than 18,000 members with sustainable access to financial services.
World Council of Credit Unions is the global trade association and development agency for credit unions. World Council promotes the sustainable development of credit unions and other financial cooperatives around the world to empower people through access to high quality and affordable financial services. World Council advocates on behalf of the global credit union system before international organizations and works with national governments to improve legislation and regulation. Its technical assistance programs introduce new tools and technologies to strengthen credit unions' financial performance and increase their outreach.
World Council has implemented 300+ technical assistance programs in 89 countries. Worldwide, 68,882 credit unions in 109 countries serve 235 million people. Learn more about World Council's impact around the world at www.woccu.org.