WOCCU-Afghanistan Project Expands
October 24, 2006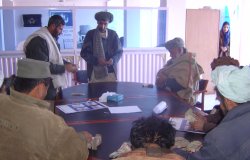 Cooperative group lending at Balkh IFC in Mazar-e-Shariff. Cooperative group lending helps farmers who do not yet qualify for individual loans to finance immediate agricultural needs.
Madison, WI—World Council of Credit Unions, Inc. is set to expand its work in Afghanistan by $11.1 million with $8.2 million funding from the Microfinance Investment and Support Facility for Afghanistan (MISFA) and an obligation of $2.9 million from from the Academy for Educational Development (AED) under its United States Agency for International Development (USAID)-funded Agriculture, Rural Investment and Enterprise Strengthening (ARIES) Program.
In northern Afghanistan with MISFA funding, World Council intends to start five additional credit unions and points of service, designed as investment and finance cooperatives (IFCs), in order to be compliant with Islamic law. World Council will also provide continued technical support to two established IFCs in Sheberghan and Mazar-e-Shariff.
World Council will establish and support up to 20 IFCs and points of service in the northern, southern and eastern regions of Afghanistan with funding from AED. As part of its ARIES Program, USAID has granted AED $80 million.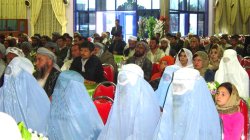 Membership orientation at Balkh IFC.
Though Afghanistan once boasted a strong agricultural export of livestock and horticultural products, private capital investment has dropped in recent years and many farmers have turned to illicit opium production to make ends meet. The three-year ARIES program aims to support people who have shifted away from this business by strengthening the agricultural sector with innovative agricultural lending and micro-entrepreneurial loans.
"The people of Afghanistan are proud and hardworking. They need nothing more than a bit of assistance from the rest of the world to help sort out their lives," said Randall Spears, World Council project director for Afghanistan. "The farmer wants to farm, and the trader wants to trade," he pointed out.
"Although there are multiple challenges to be faced—language, tribal loyalties, even the recent influx of anti-governmental forces—one still gets the sense that these are a people that are on the move toward a better future," Spears continued. "We hope that this project will be one of those vehicles that will help drive them to that better future. In a land that is primarily cash and carry, World Council is superbly placed to assist in the development of a microfinance structure for this region of the world."
World Council's work in Afghanistan began in 2004 with financial support from MISFA. Credit unions were a new concept in the war-torn country, so World Council program staff worked with communities at the grassroots level to educate staff and potential members. At the end of 2005, almost 3,000 Afghans belonged to the two credit unions in Sheberghan and Mazar-e-Shariff in northern Afghanistan.
"We've been planting seed the past two years, and it's bearing fruit," World Council deputy project director Edgar Comeros said. "The idea we've planted is still very new," he continued, emphasizing Afghanistan's fragile state. "And because it's new, we need to nurture it, be there and be with them."
Spears has extensive experience directing program implementation in conflict-affected environments, making him uniquely qualified to serve as World Council's project director in the more difficult and dangerous regions of Kandahar, Helmund and Nangarhar Provinces. Comeros has more than 30 years of credit union development experience, including two years as World Council's project director during the first phase of the MISFA program in northern Afghanistan. USAID administers the US foreign assistance program providing economic and humanitarian assistance in more than 80 countries worldwide.
World Council of Credit Unions is the global trade association and development platform for credit unions. World Council promotes the sustainable development of credit unions and other financial cooperatives around the world to empower people through access to high quality and affordable financial services. World Council advocates on behalf of the global credit union system before international organizations and works with national governments to improve legislation and regulation. Its technical assistance programs introduce new tools and technologies to strengthen credit unions' financial performance and increase their outreach.
World Council has implemented 300+ technical assistance programs in 89 countries. Worldwide, 89,026 credit unions in 117 countries serve 260 million people. Learn more about World Council's impact around the world at www.woccu.org.