WOCCU-Bolivia Brings Financial Services to Rural Areas
February 20, 2007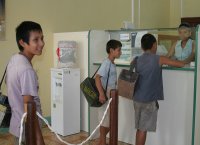 Shoeshine boys deposit their earnings into new youth savings accounts at CACTRI, Ltda., in San Borja, Bolivia.
Madison, WI—The Bolivian credit union sector boasts eight new rural credit union branches, a shared branching network with 64 points of service, remittance distribution and several new savings and credit products thanks to the success of World Council of Credit Unions' (WOCCU) Rural Credit Union Growth Program, funded by the United States Agency for International Development (USAID) in La Paz. The four-year program, which ended in December 2006, built on the foundation of past WOCCU-USAID projects in Bolivia.
Though the microfinance industry is robust in Bolivia's urban centers, more than one-third of the population lives in isolated or hard-to- reach rural areas and has few to no options for accessing financial services. In WOCCU-Bolivia's initial market study to determine potential locations for rural branches, 86-95% of survey respondents in these areas expressed the need for basic financial services such as credit, savings, remittances and domestic transfers.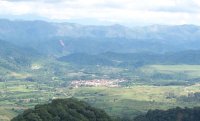 The small village of Entrerios, home to Magisterio Rural Credit Union, lies isolated among the Andes mountains in southern Bolivia.
For years, the credit union sector lacked financial discipline to build a sustainable foundation and strategy to reach rural areas. Credit unions were at a low level of lending, had a high percentage of non-productive assets, weak institutional capital and a low profit index. Delinquency rates averaged 40%, and provisions were insufficient to protect against potential losses.
"We looked at the system and saw that credit union executives and directors were deciding the direction of their credit unions without considering their members' needs," explained Julio Fernández, former WOCCU-Bolivia project director. "While working to solidify the sector's financial viability, we also helped credit unions develop a new way of packaging, promoting and selling financial services."
Through an innovative shared branching and remittances network called "ServiRed," members in rural areas can now conveniently access safe and sound International Remittance Network (IRnet®) services, savings accounts and loans in their own communities. The network unites 19 credit unions supervised by the financial sector regulator in Bolivia through 64 points of service across the country. Corporate One Credit Union in Ohio (US) lent its extensive information technology expertise to help establish the network, which operates on broadband and dial-up Internet connection.
The financial discipline among credit union management has improved considerably in four years. Bolivian credit unions participating in World Council's program reduced delinquency to a consistent average of 5%. Competitive interest rates have also attracted more members. Agriculture credit, payroll credit, microbusiness loans and housing loans now represent approximately 70% of total assets, and annual profits allow for a high level of solvency to be maintained. The total amount of savings has increased nearly five times since the outset of the program in 2002.
Once financial management was brought into line, eight credit unions established and strengthened eight corresponding rural branches in a co- financing scheme with WOCCU-Bolivia. The branches currently serve over 6,000 members in remote areas with a savings volume of $3.1 million and a loan volume in excess of $4.5 million.
Credit unions now form one of the largest financial networks in the country. Today the 23 credit unions supervised by Bolivia's financial sector regulator have a combined savings of $250 million and $231 million in loans.
World Council's fifth project in Bolivia, funded by USAID, began in September 2006. In addition to expanding upon the growth of the prior program, the new project will focus on uniting and strengthening Bolivia's microfinance sector to foster cooperation and growth in underserved areas.
World Council of Credit Unions is the global trade association and development agency for credit unions. World Council promotes the sustainable development of credit unions and other financial cooperatives around the world to empower people through access to high quality and affordable financial services. World Council advocates on behalf of the global credit union system before international organizations and works with national governments to improve legislation and regulation. Its technical assistance programs introduce new tools and technologies to strengthen credit unions' financial performance and increase their outreach.
World Council has implemented 300+ technical assistance programs in 89 countries. Worldwide, 68,882 credit unions in 109 countries serve 235 million people. Learn more about World Council's impact around the world at www.woccu.org.