WOCCU-Bolivia Project Kicks Off Awareness Campaign for Financial Sector
April 02, 2007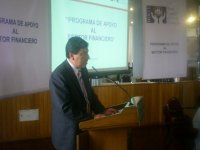 WOCCU-Bolivia director, Rolando Salazar, speaks at the event in Cochabamba.
Madison, WI—World Council of Credit Unions' (WOCCU) new Bolivia project, funded by the United States Agency for International Development (USAID), launched an awareness campaign in Santa Cruz, La Paz and Cochabamba in March, with the USAID director and the Advisory Minister of the US Embassy in Bolivia in attendance.
USAID and WOCCU unveiled the Financial Sector Support Program for financial organizations in Bolivia among representatives from various financial organizations during the campaign workshop, "Development and Evolution of the Financial System."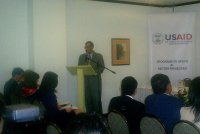 Advisory Minister of the US Embassy in Bolivia, Krishna Urs, gives the welcome address in La Paz.
Though the financial sector is the biggest industry in Bolivia and is an international leader in providing microfinance, it has yet to reach the most underserved areas of the country. While USAID and WOCCU have traditionally focused on strengthening credit unions and their products in their collaborative programs, the new program aims to unite the financial system to increase Bolivian citizens' access to financial services in these areas.
"The idea is to strengthen all financial institutions so that their services will reach the markets that most need them," explained Rolando Salazar, WOCCU-Bolivia director. He said the announcement made great waves throughout the country and was enthusiastically received.
Among the program's components is the development and implementation of the "Rural Finance Expansion Grants" available to Bolivia's financial sector to encourage innovation and expansion of financial services. Any financial institution will be able to apply for grants through USAID and WOCCU to downstream their services and integrate the financial sector as a whole.
The three-year, $2.4 million program will also build upon the ServiRed national shared branching network established by the previous USAID-funded WOCCU-Bolivia project to expand remittances, card and ATM services and provide training and technical assistance to increase outreach.
The 23 credit unions supervised by the Superintendency of Banks in Bolivia have combined savings of $250 million and $231 million in loans. With 82 collective service points, credit unions form one of the largest financial networks in the country.
World Council of Credit Unions is the global trade association and development platform for credit unions. World Council promotes the sustainable development of credit unions and other financial cooperatives around the world to empower people through access to high quality and affordable financial services. World Council advocates on behalf of the global credit union system before international organizations and works with national governments to improve legislation and regulation. Its technical assistance programs introduce new tools and technologies to strengthen credit unions' financial performance and increase their outreach.
World Council has implemented 300+ technical assistance programs in 89 countries. Worldwide, 89,026 credit unions in 117 countries serve 260 million people. Learn more about World Council's impact around the world at www.woccu.org.