WOCCU Assesses Needs of Tsunami-Affected Credit Unions in Solomon Islands
May 04, 2007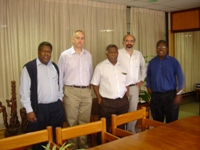 Peter Mason, executive director of CUFA and Brian Branch, chief operating officer of WOCCU with Rick Houenipwela, Governor of the Central Bank, Denton Rarawa, Deputy Governor and Gane Simbe, Manager Financial Institutions
Madison, WI—World Council of Credit Unions (WOCCU) chief operating officer Brian Branch recently traveled to the Solomon Islands to assess the damage inflicted by last month's tsunami and to identify how WOCCU and the Credit Union Federation of Australia (CUFA) can help credit unions rebuild.
The delegation met with government officials to advance strategies that will better equip credit unions to serve the struggling rural communities. "As part of the government's bottom-up strategy, we recognize that credit unions are one of the best ways to get financial services to the rural areas," observed the Governor of the Solomon Islands Central Bank.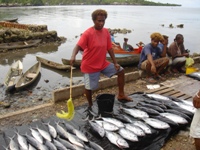 Selling fish in the Auki Village market is an important income generator on Malaita Island.
Credit unions began organizing in the Solomon Islands during the 1980s. Since its establishment in 1987, the Solomon Island Credit Union League (SICUL) has led the rapid expansion of credit unions into rural areas. CUFA has been working with SICUL since 1992 to establish MicroFinance Rural Resources Centers (MRRCs), where people in small rural communities pool their funds in savings clubs, provide basic health services and make small artisan handicrafts to generate income.
Today 159 credit unions and their 200 associated MRRC savings clubs serve more than 62,000 members in the Solomons, where 85% of the 483,083 total population lives in rural areas with little or no access to basic financial services or infrastructure. Rural communities still rely on traditional subsistence production, fishing and copra (dried coconut) in barter economies.
Roads do not reach many rural areas, where people walk long distances to get anywhere. Villages elect treasurers to hand carry the pooled savings of the MRRC to the nearest road and then buy passage on a truck to take them to a credit union.
"It is hard," described Stewart, a village elder who had walked half a day, slept by the side of the road and then traveled the second day in the back of a truck to meet with WOCCU/CUFA staff to talk about the importance of the link between his village savings club and credit union services. "We do this to give our children a better future," he explained.
"There is tremendous will and commitment among credit union volunteers to develop their communities. We need to find ways to help them build infrastructure and put into place systems that will allow them to achieve their ambitions," Branch reported.
After the tsunami hit the western islands in April, villagers fled to the high mountains of the interior for fear of repeat waves. The tsunami destroyed the little communications infrastructure that had existed.
As part of its earlier work, CUFA had donated radios to the MRRCs so that remote communities could communicate with the rest of the country via the credit union network. In the chaotic aftermath of the tsunami, the credit unions operated their radios 24 hours a day to help villagers across the islands connect with their families and find out where they could go for aid, shelter and assistance.
Relief efforts in the western province, where the tsunami destroyed entire villages, are in full speed. The government is providing emergency food, water and shelter while trying to survey the damage to remote villages reached only by canoe and several hour hikes. Everyone is pitching in. Local citizens in the islands of Guadalcanal and Malaita have organized concerts of local bamboo flute musicians mixed with rock-and-roll bands to raise money for survivors.
Immediately following the tsunami, WOCCU partnered with CUFA in a joint appeal to raise funds. The two organizations will work together in rebuilding efforts. To support the relief fund to rebuild Solomon Islands credit unions, send donations to:
Worldwide Foundation for Credit Unions
5710 Mineral Point Road
P.O. Box 2982
Madison, WI 53701-2982
Funds may also be wired. Contact Valerie Breunig at 608-231-7353 or vbreunig@woccu.o rg for wire instructions.
World Council of Credit Unions is the global trade association and development platform for credit unions. World Council promotes the sustainable development of credit unions and other financial cooperatives around the world to empower people through access to high quality and affordable financial services. World Council advocates on behalf of the global credit union system before international organizations and works with national governments to improve legislation and regulation. Its technical assistance programs introduce new tools and technologies to strengthen credit unions' financial performance and increase their outreach.
World Council has implemented 300+ technical assistance programs in 89 countries. Worldwide, 89,026 credit unions in 117 countries serve 260 million people. Learn more about World Council's impact around the world at www.woccu.org.