WOCCU Assessment Team Visits Southern Regions of Sri Lanka Affected by Tsunami
January 21, 2005

D.M.G. Pathama, manager of the Beruwella Credit Union
Sri Lanka – World Council of Credit Unions, Inc. (WOCCU) survey team are continuing to assess the damages and needs along the southern coast toward Galle, an historic outpost heavily affected by last month's tsunami.
In the small town of Beruwela, an hour from the capital city of Colombo, the deadly tsunami completely destroyed the town's small credit union, leaving only a pile of rubble. Many of the town residents are now living in refugee camps. Many others, including the Beruwela credit union chairman, were killed; trapped by a stalled train or crushed under piles of concrete. "The people tried to run away," explained D.M.G. Pathama, manager of the Beruwela credit union. "But a train had stalled on the tracks. It blocked the road and many of them were trapped and died, crushed by the wave."
WOCCU is working closely with SANASA, Sri Lanka's credit union federation and central liquidity facility, to assess the damage to credit unions and their members. Eighty-five of the 90 credit unions in the Galle District, including Beruwela and Modara Patuwatha credit unions, were affected in some way by the tsunami, reported SANASA Development Bank. Of those, 23 were completely destroyed.
Further down the coast in the town of Hikkaduwa, John Ikeda, WOCCU project development manager reported from the scene, the Modara Patuwatha credit union was flooded, though the building remained standing. According to chairman E. Benat, the credit union ledgers were partially destroyed, but efforts are now underway to reconstruct them; a challenging task for an institution that still registers every transaction by hand. "Our members who have managed to save their passbooks are bringing them in. We are using these passbooks to help rebuild our books," said Benat.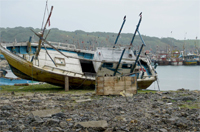 Fishing boat destroyed near Kudawella West Credit Union
Kudawella West credit union serves members in a small fishing village further south. Several hundred boats in the village's small harbor were completely ruined. Some of the boats were pushed high into the surrounding hills by the force of the wave. G.S.P. Jayaratna, fisherman and Kudawella West credit union member for 13 years, was one of the many fishermen in the village who lost his boat to the tsunami. "My home, my boat, everything is gone – washed out to sea," he told Ikeda. Despite this, Jayaratna hopes that, with help, his credit union can be revived. "Now is a difficult time for everybody," Jayaratna said. "With help, I hope to buy a new boat, to rebuild again."
Individuals or organizations wishing to support the Tsunami Disaster Relief Fund can make a contribution to Worldwide Credit Union Foundation via World Council's website at www.woccu.org/disaster_relief or via the National Credit Union Foundation's website at www.ncuf.coop.
World Council of Credit Unions is the global trade association and development platform for credit unions. World Council promotes the sustainable development of credit unions and other financial cooperatives around the world to empower people through access to high quality and affordable financial services. World Council advocates on behalf of the global credit union system before international organizations and works with national governments to improve legislation and regulation. Its technical assistance programs introduce new tools and technologies to strengthen credit unions' financial performance and increase their outreach.
World Council has implemented 300+ technical assistance programs in 89 countries. Worldwide, 89,026 credit unions in 117 countries serve 260 million people. Learn more about World Council's impact around the world at www.woccu.org.