WOCCU Awards Distinguished Service and Young Credit Union People Honors
August 03, 2007

L.R. (Bobby) McVeigh (left) receives the Distinguished Service Award from WOCCU Board Member Ron Hance (right).
Calgary, CANADA—World Council of Credit Unions (WOCCU) awarded its highest honor, the Distinguished Service Award, to an individual and a foundation on the last night of the World Credit Union Conference in Calgary, Canada. WOCCU also recognized the achievements of five young credit union leaders participating in the WOCCU Young Credit Union People program.
WOCCU awarded L.R. (Bobby) McVeigh, Credit Union Central of Canada (CUCC) Board Member and former WOCCU Board Member/Chairman, the Distinguished Service Award for his influential role in credit union development not only in Canada, but across the world. A teacher by profession, McVeigh has served on more than 30 boards of directors and commissions across various local, national and international sectors. He is the longest serving Director on the CUCC board, to which he was first elected in 1986.
In his heartfelt acceptance speech, McVeigh reminded the crowd, "It's only by engaging people that we can make a difference in this world."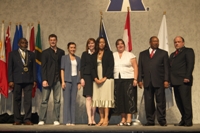 Five young credit union professionals earned scholarships to the 2008 World Credit Union Conference. Pictured (l-r): Melvin Edwards, WOCCU Board Chairman; Ryan Visscher (Canada); Izabela Rutkowska (Poland); Elizabeth V. Randall (USA); Stacey Walker (USA); Eleonora Zgonjanin Petrovik (Macedonia); Pete Crear, WOCCU President and CEO; and Mark Bailey, WOCCU Board Member and WYCUP Committee Member.
McVeigh also received an award of recognition from FEDCAR, Romania's national credit union association, for his work in that country.
WOCCU also honored the Foundation for Polish Credit Unions with the Distinguished Service Award for their work in reestablishing Poland's credit union system and further extending their training and technical assistance to Central and Eastern Europe. The Foundation has helped develop a legal framework for credit union development in Poland and has provided assistance such as education, training, financial support and study tours to both Polish and foreign credit unions.
"The time has come to pay back the debt to help other credit unions succeed," said Paweł Grzesik, National Association of Co-operative Savings and Credit Unions Representative in Warsaw, on behalf of the Foundation. WOCCU and the Polish Solidarity Trade Union assisted the Foundation with reestablishing the credit union system post-communism.
Also honored at the awards ceremony were 36 WOCCU Young Credit Union People (WYCUP) program participants from 11 countries. Of those nominees, five were selected as the 2007 WYCUP awardees: Elizabeth V. Randall, Pasadena Federal Credit Union, USA; Izabela Rutkowska, Stefczyk Credit Union, Poland; Ryan Visscher, Envision Financial, Canada; Stacey Walker, XCEL Federal Credit Union, USA; and Eleonora Zgonjanin Petrovik, FULM Savings House, Macedonia. The award winners earned an all-expense-paid trip to the 2008 World Credit Union Conference. WOCCU also awarded Zgonjanin Petrovik and Randall, the top two winners, all-expense-paid spots on the Cooperative Learning Tour to Ecuador later this year.
Moved by Monday's events at the conference— the live video feed from Afghanistan and speaker Stephen Lewis' charge to seize opportunities to combat poverty—previous WYCUP winners at the event organized the 35-and-under conference participants to sell Calgary's trademark white hats as a fundraiser for WOCCU's Worldwide Foundation for Credit Unions. At $50 per hat, they raised more than $7,000 to support international credit union development.
Next year's World Credit Union Conference will be held in Hong Kong, July 13-16, 2008.
World Council of Credit Unions is the global trade association and development agency for credit unions. World Council promotes the sustainable development of credit unions and other financial cooperatives around the world to empower people through access to high quality and affordable financial services. World Council advocates on behalf of the global credit union system before international organizations and works with national governments to improve legislation and regulation. Its technical assistance programs introduce new tools and technologies to strengthen credit unions' financial performance and increase their outreach.
World Council has implemented 300+ technical assistance programs in 89 countries. Worldwide, 68,882 credit unions in 109 countries serve 235 million people. Learn more about World Council's impact around the world at www.woccu.org.