WOCCU CEO Crear Honored for Consumer Advocacy
June 20, 2006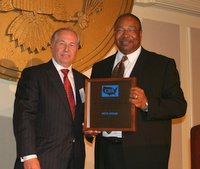 Chuck Snyder, President and CEO of National Cooperative Bank, presenting Crear with the Esther Peterson Consumer Service Award. Photo courtesy of Paul Brown, U.S. PIRG.
Washington, D.C.—The Consumer Federation of America (CFA) recently awarded its annual Esther Peterson Consumer Service Award to Pete Crear, CEO, World Council of Credit Unions, Inc. (WOCCU).
The esteemed award is given to a person who has made significant contributions to consumer health and safety, eliminating fraud, improving the marketplace and providing consumer information.
Crear was recognized at CFA's 36th annual awards dinner on June 15, 2006. Edmund Mierzwinski, consumer program director of the U.S. Public Interest Research Group, also received the Esther Peterson Consumer Service Award.
Chuck Snyder, President and CEO of National Cooperative Bank, presented Crear the award.
"'People helping people' – that is what credit unions are all about," Snyder said. "But in Pete Crear's case, he has positively impacted millions of people."
In over 40 years with the credit union movement, Crear has organized 23 credit unions, many serving lower-income and minority populations.
The World Council welcomed Crear as chief executive officer in May 2005. In just over a year with WOCCU, he has traveled nationally and to a dozen countries to promote, educate and encourage the credit union movement.
Stephen Brobeck, CFA executive director, lauded Crear as a role model in consumer service: "Pete is viewed with great respect and affection by credit union leaders, whom he has befriended and helped; by financial educators, who admire his past leadership of a program reaching over 1,000 high schools; and by consumer advocates, with whom he served on the CFA Board of Directors."
CFA is a non-profit advocacy, research, education, and service organization that has sought to advance the interests of consumers since 1968. Their annual awards program recognizes outstanding consumer advocates. Along with Crear and Mierzwinski, this year's winners also included Senator Patrick Leahy and recently retired staff writer Caroline Mayer from The Washington Post.
World Council of Credit Unions is the global trade association and development agency for credit unions. World Council promotes the sustainable development of credit unions and other financial cooperatives around the world to empower people through access to high quality and affordable financial services. World Council advocates on behalf of the global credit union system before international organizations and works with national governments to improve legislation and regulation. Its technical assistance programs introduce new tools and technologies to strengthen credit unions' financial performance and increase their outreach.
World Council has implemented 300+ technical assistance programs in 89 countries. Worldwide, 68,882 credit unions in 109 countries serve 235 million people. Learn more about World Council's impact around the world at www.woccu.org.