Inicio > Sala de Noticias > Boletines Noticiosos



April 30, 2016
Sala de Noticias // Boletines Noticiosos
28 de octubre de 2004
WOCCU Commemorates CUNA
Cuna Turns 70, Receives Credit Union Ambassador's Award From WOCCU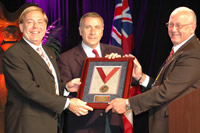 Gary Plank, WOCCU delegate and first vice chairman (right) presents the Credit Union Ambassador Award to CUNA president (center) Dan Mica and board chairman Dick Ensweiler
In honor of Credit Union National Association's (CUNA) 70th anniversary, the World Council of Credit Unions, Inc. (WOCCU) presented their largest member with a Credit Union Ambassador's Award on October 23. WOCCU began as an outgrowth of CUNA, CUNA International, before gaining autonomy, and CUNA has since become their largest member.
Gary Plank, WOCCU delegate and first vice chairman of the board, delivered a speech commemorating CUNA on its achievement, focusing on their role in the International Partnerships program—an initiative that pairs credit unions in developed and developing nations for mutual development. CUNA contributes monetary support and technical assistance to the program, which continues to thrive, adding three new Partnerships last year.
Plank also spoke more generally about the supportive relationship between WOCCU and CUNA, saying, "Over the years, CUNA has been an invaluable mentor, partner and friend to WOCCU." He added that CUNA has "guided our organization, taught us through example, stepped in when needed and encouraged our many international development efforts." After his speech, Plank presented the award to CUNA president and CEO Dan Mica.
El Consejo Mundial de Cooperativas de Ahorro y Crédito es la asociación gremial y agencia de desarrollo para el sistema internacional de cooperativas de ahorro y crédito. El Consejo Mundial promueve el crecimiento sustentable de las cooperativas de ahorro y crédito y otras cooperativas financieras en todo el mundo a fin de facultar a las personas para que mejoren su calidad de vida a través del acceso a servicios financieros asequibles y de alta calidad. El Consejo Mundial realiza esfuerzos de defensa activa en representación del sistema global de las cooperativas de ahorro y crédito ante organizaciones internacionales y trabaja con gobiernos nacionales para mejorar la legislación y la regulación. Sus programas de asistencia técnica introducen nuevas herramientas y tecnologías para fortalecer el desempeño financiero de las cooperativas de ahorro y crédito y profundizar su alcance comunitario.
El Consejo Mundial ha implementado 290 programas de asistencia técnica en 71 países. A nivel mundial, 57,000 cooperativas de ahorro y crédito en 105 países atienden a 217 millones de personas. Obtenga más información sobre el impacto global del Consejo Mundial en www.woccu.org.

Teléfono: (608) 395-2000