WOCCU Elects New Board, Conference Attendees Explore Methods for Growth
August 01, 2007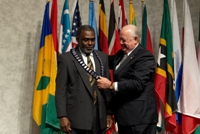 Outgoing WOCCU Chairman Gary Plank passes on the chain of office to new WOCCU Chairman Melvin Edwards of the Caribbean.
Calgary, CANADA—World Council of Credit Unions (WOCCU) and the international credit union movement ushered in a new chairman of the board, learned tactics to achieve double-digit growth from an acclaimed author/strategist and explored the two predominant systems of the Canadian credit union movement at a sit-down luncheon Tuesday at the World Credit Union Conference in Calgary, Canada.
The day began with the new WOCCU board of directors taking their oath of office. New members of the board include: Anne Cochran, President and CEO of the Louisiana Credit Union League (USA), Alcenor Pagnussatt, President of the SICREDI credit union system (Brazil) and Daniel Burns, Chairman of Credit Union Central of British Columbia (Canada). Re-elected after two-year terms were Grzegorz Bierecki (Poland), John Gilbert (Australia) and Manual Rabines (Peru). Outgoing directors include: L.R. (Bobby) McVeigh (Canada) and Board Chairman Gary Plank (USA).
Plank capped off his 42-year career in credit unions, ten years on the WOCCU board and two- year service as Chairman as he passed reigns on to Melvin Edwards. A national of St. Kitts and Nevis, Edwards represents the Caribbean Confederation of Credit Unions (CCCU). An ardent credit unionist for more than 25 years, he was the youngest ever President of CCCU (1995-1999) and is now the first WOCCU chairman to come from the Caribbean.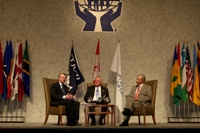 John Gilbert, WOCCU Director from Australia (center), moderates a discussion on the overview of the Canadian credit union system with David Phillips, President and CEO of Credit Union Central of Canada (left), and Alban D'Amours, President and CEO of Desjardins (right).
Edwards received the chain of office from Plank and said in his acceptance remarks, "We can't afford to fail. It's about a matter of trust. Just like every link in this chain, we are one family and part of the same cause."
Edwards outlined his main initiatives to the crowd during his acceptance speech. He talked about putting greater emphasis on compliance with international standards, expanding membership to countries like Brazil, Russia, India and China, fostering a stronger presence in the international arena of microfinance and expanding rural outreach not only in developing countries but in developed nations as well.
Michael Treacy, one of the world's leading experts on corporate strategy in growth, took the stage next to share with the crowd strategies in achieving "double-digit" credit union growth. He challenged the crowd to examine what it is that distinguishes credit unions from other financial institutions, claiming that credit unions risk losing the essence of the movement if they don't look beyond their field of membership and put forth the compelling value their institutions offer that the competition does not.
"Growth is not a choice. It's necessary to grow to sustain the health of any institution," Treacy pointed out, indicating that to sustain the health of a business, it must grow at least four to six percent each year.
Treacy said that growth was really a discipline more than a strategy and that there were just five sources of revenue that credit unions should focus on to attain levels of sustainable growth: base retention—not reliant on customer loyalty but to the value that the institution offers, market share growth, anticipating market growth to improve positioning and the more risky sources—exploring adjacent markets and new lines of business.
Alban D'Amours, President and CEO of Desjardins, and David Phillips, President and CEO of Credit Union Central of Canada, gave a luncheon overview of the Canadian Credit Union System with John Gilbert, WOCCU Board Member, facilitating. The two compared and contrasted the caisse populaires and credit union systems in Canada, reminding the crowd that the greatest challenge they face is remaining vigilant in retaining the cooperative philosophy that distinguishes them from the rest.
In a special WOCCU member exchange, Alcenor Pagnussatt, WOCCU's new board member and President of the SICREDI credit union system in Brazil, and his Brazilian colleagues shared lessons on creating a successful centralized credit union system with 40 of his peers from WOCCU member FENACOAC in Guatemala. Pagnussatt talked about the advantages of promoting a unified brand, standardizing information technology systems, maintaining performance standards and creating services organizations that provide economies of scale for credit unions on the network.
World Council of Credit Unions is the global trade association and development agency for credit unions. World Council promotes the sustainable development of credit unions and other financial cooperatives around the world to empower people through access to high quality and affordable financial services. World Council advocates on behalf of the global credit union system before international organizations and works with national governments to improve legislation and regulation. Its technical assistance programs introduce new tools and technologies to strengthen credit unions' financial performance and increase their outreach.
World Council has implemented 300+ technical assistance programs in 89 countries. Worldwide, 68,882 credit unions in 109 countries serve 235 million people. Learn more about World Council's impact around the world at www.woccu.org.