Inicio > Sala de Noticias > Boletines Noticiosos



May 4, 2016
Sala de Noticias // Boletines Noticiosos
02 de mayo de 2005
WOCCU Helps Strengthen Russian CU System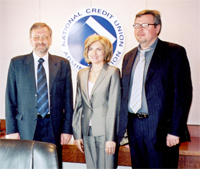 (L-R) Vadim Kalinichev; General Director of the Russian Credit Union League; Deborah Matz, NCUA board member; and Vladimir Lukov, Deputy Director of Financial Policy in the Finance Ministry of the Russian Federation at NCUA.
Madison, WI-As part of a World Council development activity Russian financial leaders Vadim Kalinchev, Deputy Head of Apparatus Committee for Financial Markets & Monetary Turnover in Council of Federation (Upper Chamber of Russian Parliament) and Vladimir Lukov, Deputy Director of Department for Financial Policy in Finance Ministry of Russian Federation traveled to Washington, DC and New York to learn more about the United States credit union system and its regulatory framework.
In New York the Russian delegation met with the NY State Credit Union League and learned more about the state league activities. Kalinchev highlighted the role of the Russian CU League, noting, "The League and other finance policy representatives are looking into different models/credit union structures. I see the League's role as providing training to credit union staff and leaders in order to promote the use of credit unions to the public."
"These are dynamic leaders and we expect exciting things to happen in the credit union movement from henceforth. Both are connected and have a good understanding of the role credit unions can play in the Russian financial system," noted Cassie Rademaekers, WOCCU program specialist, Europe, Asia & Africa.

(L-R) Alexander Sergeenkov, Deputy Chief of Staff, Committee of Finance, Russian Parliament; Michael Castellana, President of SEFCU, Albany NY; Vladimir Lukov, Deputy Director of Financial Policy in the Finance Ministry of the Russian Federation, Vadim Kalinichev, General Director of the Russian Credit Union League; and Patrick Calhoun, CEO of SEFCU in the lobby of the SEFCU offices.
State Employees Federal Credit Union in Albany, NY, the 64th largest credit union in the country, and Baybridge Credit Union in Brooklyn, NY, a community development credit union also hosted the delegation, giving them a view of credit unions of various sizes who effectively serving diverse fields of membership.
During the delegation's visit they were able to meet with the National Credit Union Administration and the National Association for State Credit Union Supervisors to learn how they could strengthen legislation and regulation to protect credit unions in their own country. Topics covered included regulatory authority and process, enforcement, analysis and methodology and prudencial management requirements. NCUA chairman JoAnn Johnson noted, "Russia has a number of challenges as it embarks on strengthening its financial sector. Emerging small businesses have limited access to capital. As Russia strives for a high quality financial sector and embarks on financial reform, credit unions can go a long way to help their members sustain prosperity over the long term."
While in DC the delegation also met with the Credit Union National Association to gain a better understanding of the national credit union system structure, legislative activities, and products and services provided to U.S. credit unions.
Current statistics show 529 credit unions in Russia serve over 350,000 credit union members. Credit unions were formed in 1993 and today most credit unions are small, with only 42 considered to be large. Russian credit unions are thought of to be social mechanisms as well as financial institutions.
El Consejo Mundial de Cooperativas de Ahorro y Crédito es la asociación gremial y agencia de desarrollo para el sistema internacional de cooperativas de ahorro y crédito. El Consejo Mundial promueve el crecimiento sustentable de las cooperativas de ahorro y crédito y otras cooperativas financieras en todo el mundo a fin de facultar a las personas para que mejoren su calidad de vida a través del acceso a servicios financieros asequibles y de alta calidad. El Consejo Mundial realiza esfuerzos de defensa activa en representación del sistema global de las cooperativas de ahorro y crédito ante organizaciones internacionales y trabaja con gobiernos nacionales para mejorar la legislación y la regulación. Sus programas de asistencia técnica introducen nuevas herramientas y tecnologías para fortalecer el desempeño financiero de las cooperativas de ahorro y crédito y profundizar su alcance comunitario.
El Consejo Mundial ha implementado 290 programas de asistencia técnica en 71 países. A nivel mundial, 57,000 cooperativas de ahorro y crédito en 105 países atienden a 217 millones de personas. Obtenga más información sobre el impacto global del Consejo Mundial en www.woccu.org.