WOCCU Partnership Meeting Builds on ICU Day Activities
October 22, 2007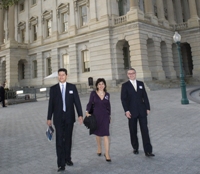 Staff from Costa Rican credit union COOPESERVIDORES, R.L. "hike the hill" to support WOCCU'S advocacy efforts on International Credit Union Day in Washington, D.C. (from left to right: Juan Carlos Li Guzmán, Commercial Director; Victoria Hernández Mora, Director; Oscar Hidalgo Chaves, CEO)
WASHINGTON, D.C. — Branding, lobbying and building awareness are universal challenges facing credit unions. Representatives from nine of the World Council of Credit Unions' (WOCCU's) International Partnerships Program met Oct. 19 to discuss these and other issues facing credit unions operating both within and beyond U.S. borders. The group of 19 partnership representatives met the day following advocacy efforts to help celebrate International Credit Union Day, according to Victor Miguel Corro, WOCCU's International Partnerships manager.
Participants represented the following partnerships:

Jamaica – Texas Credit Union League
Caja Popular Mexicana, Mexico – Texas Credit Union League and the California Credit Union League
Bolivia – Ohio Credit Union League
Costa Rica – Alabama Credit Union League
Puerto Rico – New York Credit Union League
Guatemala – Virginia Credit Union League
Bahamas – Massachusetts Credit Union League
Peru – Vermont Credit Union League
Nicaragua – Maryland and Washington, D.C. Credit Union League
Participants came from nine of the 22 partnerships WOCCU currently supports. Seven more partnerships are under development, Corro added.
Representatives briefed the group about the successes and challenges their partnerships have experienced, as well as plans for the future. Discussions also focused on raising awareness, information technology, shared branching and deposit insurance.
The program's featured presentation was made by Oscar Hidalgo Chaves, CEO of CoopeServidores in Costa Rica. Hidalgo, who had been in Alabama on a partnership visit the week before the workshop, talked about credit unions in Costa Rica, the history of the Federation of Cooperatives of Costa Rica (FEDEAC) and also about his credit union's partnership with Family Security Credit Union in Decatur, Ala.
"I didn't know what to expect on sophistication and size [of the credit unions in Costa Rica]," said Vicki Williams, SEVP & COO of Alabama League of her league's partnership with Costa Rica. "I thought they would all be small, but they had very professional offices and great community outreach."
Most of the briefings were conducted casually to help foster discussions among the participants, many of whom offered individual perspectives valuable to the discussion.
"It is the commitment to the industry and the credit union philosophy really transcends borders," said Carlos Calderon, president/CEO of OAS Staff Federal Credit Union, Washington, D.C. "WOCCU did a good job moving that forward and making the world aware that [a credit union] is not a charity organization."
World Council of Credit Unions is the global trade association and development agency for credit unions. World Council promotes the sustainable development of credit unions and other financial cooperatives around the world to empower people through access to high quality and affordable financial services. World Council advocates on behalf of the global credit union system before international organizations and works with national governments to improve legislation and regulation. Its technical assistance programs introduce new tools and technologies to strengthen credit unions' financial performance and increase their outreach.
World Council has implemented 300+ technical assistance programs in 89 countries. Worldwide, 68,882 credit unions in 109 countries serve 235 million people. Learn more about World Council's impact around the world at www.woccu.org.