WOCCU Volunteer Bill Raker Makes an Impact in Cambodia
June 04, 2007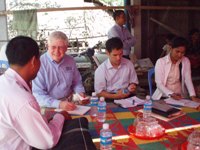 Volunteer staff members of Krang Ampil Village Bank credit union met with Raker to discuss their credit union's operations. Pictured (l-r): Vong Sarinda, Cambodian Community Finance Institution Network coordinator, Bill Raker, Kundi Lay, Cambodian Credit Union Foundation of Australia project manager, and Van Sam On, Krang Ampil Village Bank treasurer. Photo courtesy of Bill Raker.
Madison, WI—Bill Raker, President and CEO of US Federal Credit Union, traveled to Cambodia last month to assess prospective credit unions as part of the World Council of Credit Unions (WOCCU)-Credit Union Foundation of Australia (CUFA) collaborative effort to foster credit union growth in Cambodia.
One-third of Cambodia's 14 million people lives below the country's poverty level of US$0.50 per day. Raker visited credit unions in two villages in the rural rice farming area 100 kilometers from the capital city of Phnom Penh.
Of his trip, Raker reported, "The two credit unions I visited were in an area that has an agrarian, underdeveloped, minimalist economy. The visit to Cambodia was an eye-opening, life- changing experience."
He found people living in wooden homes on stilts surrounded by rice fields. Pigs, chickens and ducks roamed freely around the dirt floors and cattle were tethered inside the houses. Water flowed only from hand-pumped wells, and there was no electricity.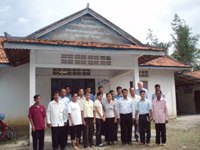 Raker met with Takeo Farmers' volunteer credit union directors in a multi-purpose community building that served as the central office for the credit union's operations. Photo courtesy of Bill Raker.
Raker was one of the first foreigners ever to visit the remote village of Krang Ampil Village Bank credit union. First organized in 2001, the credit union has 47 members from a village of about 125 families. Members pool their savings to provide loans for fellow members to buy chickens for raising and selling, fertilizer and rice for planting, and goods for selling in the village market.
One female member used a loan from Krang Ampil Village Bank credit union her to buy a sewing machine. She now uses the machine to make silk items that she sells to support her family.
Given the history of conflict in Cambodia, people tend to mistrust government, politicians and each other. "Yet members are learning to trust each other through their experiences with their credit unions," Raker commented.
Founded just last year, Takeo Farmers credit union brings together 1,402 members from 26 village associations. Village members elect volunteer "directors," who oversee the credit union by receiving and accounting for the deposits and approving and administering loans. Takeo Farmers' loans are primarily for agriculture and retail commerce for self- employed members.
One credit union family explained to Raker that they were saving for emergencies, illness and old age. The same family had accessed a credit union loan for an ox cart to carry fertilizer to the fields and to haul their garden produce to sell in the local market at harvest time.
Brian Branch, Chief Operating Officer and Senior Vice President of WOCCU explained, "There is a tremendous amount of talent and good will in the credit union movement in Cambodia. Through collaboration within the international credit union system, volunteers like Bill Raker reach out and make an impact in some of the most remote and underserved communities in the world today."
The WOCCU-CUFA development program will support credit unions with solid growth potential so they can construct buildings and generate confidence in their communities to attract new members.
World Council of Credit Unions is the global trade association and development agency for credit unions. World Council promotes the sustainable development of credit unions and other financial cooperatives around the world to empower people through access to high quality and affordable financial services. World Council advocates on behalf of the global credit union system before international organizations and works with national governments to improve legislation and regulation. Its technical assistance programs introduce new tools and technologies to strengthen credit unions' financial performance and increase their outreach.
World Council has implemented 300+ technical assistance programs in 89 countries. Worldwide, 68,882 credit unions in 109 countries serve 235 million people. Learn more about World Council's impact around the world at www.woccu.org.