WOCCU Welcomes Four New Members from Around the World
August 10, 2007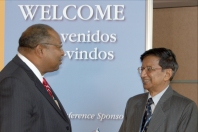 WOCCU President & CEO Pete Crear welcomes new member NAFCUB's CEO D. Krishna.
Madison, WI—World Council of Credit Unions (WOCCU) welcomed four new members based in Cameroon, India, Poland and the United Kingdom during its annual general meeting in Calgary, Canada.
On the diversity represented by the new members, World Council President & CEO Pete Crear commented, "We are pleased that credit union members in Cameroon will once again benefit from belonging to the international credit union system through World Council. And we're delighted to increase the breadth of World Council's membership to include cooperative banks in India and cooperative insurance providers around the world. We're all stronger as a result of this kind of cooperation among cooperatives."
The Cameroon Cooperative Credit Union League (CamCCUL) joined World Council for the first time as a full national member. CamCCUL represents 191 credit unions serving 209,050 members with consolidated assets of US$85.7 million. CamCCUL is the largest microfinance network in the country and surrounding region.

Outgoing WOCCU Chairman Gary Plank congratulates Grzegorz Buckowski, general manager of TUW Skok in Poland.
The National Federation of Urban Cooperative Banks and Credit Societies (NAFCUB) in India became an associate member. NAFCUB represents 875 urban cooperative banks and 76 credit societies. The 1,850 urban cooperative banks in India serve over 20 million members and more than 200 million clients.
The Cooperative Savings and Credit Union Mutual Insurance Society (TUW Skok) was recognized for joining as an associate member in 2006. TUW Skok provides insurance services for credit unions and their 1.7 million members throughout Poland.
The International Cooperative and Mutual Insurance Federation (ICMIF), representing 184 cooperative and mutual insurance companies in 70 countries, also joined as an associate member. Many of the insurance companies represented by ICMIF are closely linked to World Council's existing members around the world.
A full listing of WOCCU's members can be found at Link to website www.woccu.org/about/memlist.php. World Council's annual general meeting is held each year at the World Credit Union Conference. Next year's meeting will be in Hong Kong, July 13-16.
World Council of Credit Unions is the global trade association and development agency for credit unions. World Council promotes the sustainable development of credit unions and other financial cooperatives around the world to empower people through access to high quality and affordable financial services. World Council advocates on behalf of the global credit union system before international organizations and works with national governments to improve legislation and regulation. Its technical assistance programs introduce new tools and technologies to strengthen credit unions' financial performance and increase their outreach.
World Council has implemented 300+ technical assistance programs in 89 countries. Worldwide, 68,882 credit unions in 109 countries serve 235 million people. Learn more about World Council's impact around the world at www.woccu.org.