Inicio > Sala de Noticias > Boletines Noticiosos



May 4, 2016
Sala de Noticias // Boletines Noticiosos
13 de marzo de 2006
WOCCU and Arrowhead Credit Union Work With Credit Unions In Iran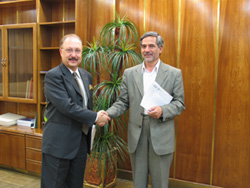 Dr. Mo Vaziri (left) with the Minister of Cooperatives, Mr. Kardvni.
Madison, WI– The need for secure and reliable financial services is not a unique one in the international community but the availability of these services often is challenging. This is especially true in primarily Muslim countries, such as Iran, where traditional interest bearing accounts and credit practices are forbidden by religious doctrine. That is where the World Council of Credit Unions, Inc. (WOCCU) steps in to build a bridge between people of countries, spreading the guiding philosophy of the credit union movement; people helping people.
This past December, Dr. Mo Vaziri traveled to the capital city of Tehran on a mission for the World Council of Credit Unions. Dr. Mo Vaziri, who on a typical day presides over a subsidiary division of Arrowhead Credit Union. Vaziri was chosen for this role because of his prior experience consulting for the Iranian Central Bank on the restructuring of the Tehran Stock Exchange three years ago.
There are 1,579 credit unions in Iran with 419,069 members. Some of these credit unions serve across the country, such as Samen Alaemeh, with 500 branches nationwide and Mola Almovahedin with 300 branches. With growth of the credit union sector, the credit unison have asked for advice in the establishment of a regulatory agency over the credit union system.
"Vaziri's unique perspective, having worked with financial agencies in Iran as well as other countries, coupled with his educational background and credit union expertise made him the perfect choice to assist with this auspicious undertaking," states Larry Sharp, President/CEO of Arrowhead Credit Union. "We were happy to donate his time to make this event happen."

Dr. Mo Vaziri meets with the representatives from the Iranian parliament including the Minister of Cooperatives and other CU executives.
According to Brian Branch, Chief Operating Officer at WOCCU, who helped to organize the trip, "credit unions are one of the most active community based means by which ordinary people exercise democracy and economic self help around the world. Credit unions provide members with a means by which they can improve their lives through their own collective actions."
Vaziri adds, "It was a great experience to visit Iran as the role of financial cooperatives throughout the country is expanding. By participating in WOCCU, the Iranian credit union system will have access to the technology and processes to assist them in providing more financial services to their members with better oversight from the new regulatory agency."
"To help in the development of the global credit union community is a testimony to the viability of the credit union message; as we establish these bonds and learn from other cultures, they learn from our financial practices, and we can be ambassadors of goodwill around the world," states Sharp.
El Consejo Mundial de Cooperativas de Ahorro y Crédito es la asociación gremial y agencia de desarrollo para el sistema internacional de cooperativas de ahorro y crédito. El Consejo Mundial promueve el crecimiento sustentable de las cooperativas de ahorro y crédito y otras cooperativas financieras en todo el mundo a fin de facultar a las personas para que mejoren su calidad de vida a través del acceso a servicios financieros asequibles y de alta calidad. El Consejo Mundial realiza esfuerzos de defensa activa en representación del sistema global de las cooperativas de ahorro y crédito ante organizaciones internacionales y trabaja con gobiernos nacionales para mejorar la legislación y la regulación. Sus programas de asistencia técnica introducen nuevas herramientas y tecnologías para fortalecer el desempeño financiero de las cooperativas de ahorro y crédito y profundizar su alcance comunitario.
El Consejo Mundial ha implementado 290 programas de asistencia técnica en 71 países. A nivel mundial, 57,000 cooperativas de ahorro y crédito en 105 países atienden a 217 millones de personas. Obtenga más información sobre el impacto global del Consejo Mundial en www.woccu.org.

Teléfono: (608) 395-2000