WOCCU in Russia: First Eastern European Congress a Success
Russia and Louisiana sign official International Partnership Agreement
September 18, 2007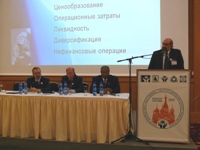 Brian Branch, WOCCU Chief Operating Officer, addresses the 217 participants of the Eastern European Congress as (r-l) Pete Crear, WOCCU President & CEO, Valery Kasatkin, Chairman of the Russian Credit Union League and Vadim Kalinichev, CEO of the Russian Credit Union League, look on.
Madison, WI—World Council of Credit Unions (WOCCU) partnered with member the Russian Credit Union League (RCUL) to co-host its inaugural Eastern European Credit Union Congress in Moscow, Russia, September 10-12. The first congress of its kind in the region, 217 participants from 12 countries attended to discuss the progress of credit union movements in Eastern Europe and throughout the world.
Vadim Kalinchev, CEO of RCUL, remarked "The Congress is undoubtedly a big opportunity for further interaction between participating credit unions. Credit unions throughout the region can now see that we are moving in one direction together, committed to International Credit Union Principles."
Attendees from Azerbaijan, Iran, Ireland, Ukraine, Uzbekistan and other countries participated in lively discussions on issues of critical importance to credit unions in the region. Topics ranged from how credit unions can strengthen their social and civic responsibility to why and how credit unions are regulated in the United States. Vladimir Lukov, Deputy Director of the Department for Finance Policy, Finance Ministry of the Russian Federation, provoked a spirited debate when he presented on the Finance Ministry's plans to create one national system of regulation for all types of microfinance institutions in Russia.

Participants of the 2007 Eastern European Congress in Moscow.
Dina Plokhotnaya, known as "Mother Russia" for her involvement in the formation of credit unions in Russia, addressed the top government officials present, demanding to know if proposed regulatory legislation in Russia will be specifically designed for credit unions. Her probing led others to question the officials on whether proposed legislation would take into account the institutional requirements of a sustainable deposit-taking financial cooperative, and adequately build public confidence.
Grzegorz Bierecki, WOCCU Treasurer and President of the National Association of Cooperative Savings and Credit Unions (NACSCU) in Poland, explained the seven secrets to credit union growth and cautioned participants about the danger of over-reliance on external credit for developing credit unions.
During the three-day gathering, RCUL and the Louisiana Credit Union League (LCUL) signed their International Partnership Agreement with WOCCU. Anne Cochran, WOCCU Director and President and CEO of LCUL, remarked, "The warmth and energy of the Russian people make the opportunity to work in this partnership especially rewarding."
WOCCU will continue to support the developing credit union movements of Eastern Europe and will carry out another European Congress in 2008.
World Council of Credit Unions is the global trade association and development agency for credit unions. World Council promotes the sustainable development of credit unions and other financial cooperatives around the world to empower people through access to high quality and affordable financial services. World Council advocates on behalf of the global credit union system before international organizations and works with national governments to improve legislation and regulation. Its technical assistance programs introduce new tools and technologies to strengthen credit unions' financial performance and increase their outreach.
World Council has implemented 300+ technical assistance programs in 89 countries. Worldwide, 68,882 credit unions in 109 countries serve 235 million people. Learn more about World Council's impact around the world at www.woccu.org.