Inicio > Sala de Noticias > Boletines Noticiosos



May 4, 2016
Sala de Noticias // Boletines Noticiosos
20 de mayo de 2005
WOCCU's 2005 World CU Conference Keynoter Appears On
Blaine Takes on Payday Lenders
CUNA News Now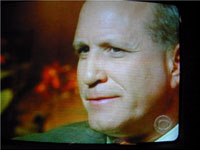 Blaine answers a question during the Wednesday CBS broadcast of "60 Minutes II." (Photos provided by CUNA).
MADISON, WI - Credit union CEO Jim Blaine attacked payday lenders during a broadcast of "60 Minutes II" on CBS Wednesday night, saying that "any other choice on the planet is better," even loan sharks.
Blaine, president and CEO of State Employees Credit Union, a $12.1 billion asset credit union in Raleigh, NC, told CBS correspondent Scott Pelly: "It's not a fair fight. It's the consumer getting in the ring with Mike Tyson. I mean, we all may know the rules; it may be legal, but it's gonna be ugly the way it turns out," he said.
He said he noticed the explosive growth of payday lending when some of his members got into trouble.
Pelley: "If someone came to you and said, 'I'm gonna take one of these payday loans out,' knowing what you know, what would you tell that person?"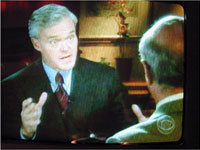 CBS "60 Minutes" correspondent Scott Pelley (left) asks Blaine (back to camera) about the growing incidence of payday lenders in his state
Blaine: "I'd say, 'Go to a loan shark. They're cheaper.' A loan shark only charges about 150%. Why would you go pay 400%? Any other choice on the planet is better. A credit card at 18% is better. A finance company loan at 36% is better. You know, borrow from mom or your uncle. Any choice is better."
Pelley: "You're not equating this to loan sharking, are you?"
Blaine: "No, I think it's far worse. I wouldn't insult the loan sharks."
The segment also interviewed Sandra Harris, a North Carolina disc jockey and teacher, who took out payday loans when her husband lost his job. She borrowed $2,510 and ended up paying $10,000 in fees.
John Kucan, a former Connecticut state trooper who was shot in the line of duty and disabled, said he and his wife took out payday loans and renewed them 15 times, borrowing $850 and paying $2,400 in fees. "What's flashing in front of you is the dollars you're looking for," he said. "The percentage rate isn't something you're even considering at the time."
"60 Minutes" noted that with 22,000 locations, there are more payday lending stores today than there are McDonald's and that payday lending is a $40 billion-a-year-industry. Although 36 states regulate rollovers and fees to some degree, payday lenders use out-of-state banks and federal regulations to avoid complying with the state laws, the broadcast said.
El Consejo Mundial de Cooperativas de Ahorro y Crédito es la asociación gremial y agencia de desarrollo para el sistema internacional de cooperativas de ahorro y crédito. El Consejo Mundial promueve el crecimiento sustentable de las cooperativas de ahorro y crédito y otras cooperativas financieras en todo el mundo a fin de facultar a las personas para que mejoren su calidad de vida a través del acceso a servicios financieros asequibles y de alta calidad. El Consejo Mundial realiza esfuerzos de defensa activa en representación del sistema global de las cooperativas de ahorro y crédito ante organizaciones internacionales y trabaja con gobiernos nacionales para mejorar la legislación y la regulación. Sus programas de asistencia técnica introducen nuevas herramientas y tecnologías para fortalecer el desempeño financiero de las cooperativas de ahorro y crédito y profundizar su alcance comunitario.
El Consejo Mundial ha implementado 290 programas de asistencia técnica en 71 países. A nivel mundial, 57,000 cooperativas de ahorro y crédito en 105 países atienden a 217 millones de personas. Obtenga más información sobre el impacto global del Consejo Mundial en www.woccu.org.

Contacto principal:
Lucía Hughes
Organización:
Coast Capital Savings
Correo electrónico:
lhughes@oas.org
Teléfono:
(202) 458-3840