WOCCU's CEO and Board Chairman Meet with Ukrainian CU System
November 09, 2005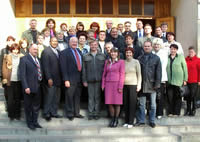 WOCCU's CEO and board chairman meet with Ukrainian CU System
Madison, WI — World Council of Credit Unions' (WOCCU) board chairman Gary Plank and chief executive officer Pete Crear recently met with new World Council member, the Ukrainian National Association of Savings and Credit Unions (UNASCU), in Kiev, Ukraine.
During meetings with Petro Kozynets, president of UNASCU, his staff, Crear and Plank were also able to meet with the Head of the State Commission for Regulation of the Financial Services Market in the Ukraine, Olena Y. Zbarazhska and other key government officials to discuss the future regulation and strengthening of credit unions. Zbarazhska was very supportive of credit unions, especially as a weapon to combat money lenders who are taking advantage of Ukrainian citizens without access to credit unions.
The World Council delegation witnessed the Ukrainian Associations' first CEO Institute, a basic short course on financial and management basics for credit union leaders and volunteers. Training and regulation are two of the most important initiatives for Ukraine's credit union system.
World Council of Credit Unions is the global trade association and development agency for credit unions. World Council promotes the sustainable development of credit unions and other financial cooperatives around the world to empower people through access to high quality and affordable financial services. World Council advocates on behalf of the global credit union system before international organizations and works with national governments to improve legislation and regulation. Its technical assistance programs introduce new tools and technologies to strengthen credit unions' financial performance and increase their outreach.
World Council has implemented 300+ technical assistance programs in 89 countries. Worldwide, 68,882 credit unions in 109 countries serve 235 million people. Learn more about World Council's impact around the world at www.woccu.org.