WOCCU's CEO and Board Chairman Meet with Ukrainian CU System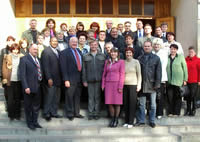 WOCCU's CEO and board chairman meet with Ukrainian CU System
Madison, WI — World Council of Credit Unions' (WOCCU) board chairman Gary Plank and chief executive officer Pete Crear recently met with new World Council member, the Ukrainian National Association of Savings and Credit Unions (UNASCU), in Kiev, Ukraine.
During meetings with Petro Kozynets, president of UNASCU, his staff, Crear and Plank were also able to meet with the Head of the State Commission for Regulation of the Financial Services Market in the Ukraine, Olena Y. Zbarazhska and other key government officials to discuss the future regulation and strengthening of credit unions. Zbarazhska was very supportive of credit unions, especially as a weapon to combat money lenders who are taking advantage of Ukrainian citizens without access to credit unions.
The World Council delegation witnessed the Ukrainian Associations' first CEO Institute, a basic short course on financial and management basics for credit union leaders and volunteers. Training and regulation are two of the most important initiatives for Ukraine's credit union system.
El Consejo Mundial de Cooperativas de Ahorro y Crédito es la asociación gremial y agencia de desarrollo para el sistema internacional de cooperativas de ahorro y crédito. El Consejo Mundial promueve el crecimiento sustentable de las cooperativas de ahorro y crédito y otras cooperativas financieras en todo el mundo a fin de facultar a las personas para que mejoren su calidad de vida a través del acceso a servicios financieros asequibles y de alta calidad. El Consejo Mundial realiza esfuerzos de defensa activa en representación del sistema global de las cooperativas de ahorro y crédito ante organizaciones internacionales y trabaja con gobiernos nacionales para mejorar la legislación y la regulación. Sus programas de asistencia técnica introducen nuevas herramientas y tecnologías para fortalecer el desempeño financiero de las cooperativas de ahorro y crédito y profundizar su alcance comunitario.
El Consejo Mundial ha implementado 290 programas de asistencia técnica en 71 países. A nivel mundial, 51,000 cooperativas de ahorro y crédito en 100 países atienden a 196 millones de personas. Obtenga más información sobre el impacto global del Consejo Mundial en www.woccu.org.