WOCCU's Hispanic Marketing Immersion Program Offers New Insight
July 16, 2007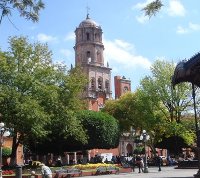 The city of Queretaro provides rich lessons in Mexican history and culture.
Madison, WI— Building on the success of four partnerships among U.S. credit union leagues and Mexican cajas, World Council of Credit Unions (WOCCU) is launching a new Hispanic Marketing Immersion Program in Mexico, September 15–30, 2007.
The program will encourage membership growth in U.S. credit unions by equipping participants with the critical skills and knowledge they need to reach the growing Hispanic market in the United States.
The immersion program includes three main components: cultural exposure through home stays with pre–screened Mexican host families, customized Spanish classes for all levels, hands–on internships and marketing workshops at partner credit union branches in Mexico.
According to Brian Branch, Executive Vice President and Chief Operating Officer, WOCCU's new program grew in response to U.S. credit union demand.
"With its long history and strong relationships with Latin American credit unions and their members," Branch noted, "WOCCU is uniquely positioned to help U.S. credit unions drive membership growth and serve the underserved Hispanic market."
This year's inaugural group of participants will have the unique opportunity to engage in a U.S.–Mexico Credit Union Summit on September 22–23, 2007. Led by WOCCU, credit union leaders from both countries will share their strategies for driving membership growth and building international connectivity.
The first one-week and two-week immersion sessions will take place in the cities of Queretaro and Guanajuato, Mexico, September 15–30, 2007. The deadline for registration is July 31, 2007, and space is limited. Visit http://www.woccu.org/meetings or contact Victor Corro, International Partnerships manager, at vcorro@woccu.org for more information.
WOCCU's International Partnerships program facilitates networking experiences and technical exchanges between developed and developing credit union movements through delegation visits, meetings and volunteer assignments. The California and Nevada Credit Union Leagues and The Texas Credit Union League partnered with Caja Popular Mexicana in 2002; the Arizona Credit Union System partnered with Caja Libertad in 2004 and the New Mexico Credit Union Association partnered with Caja Alianza in 2005. The North Carolina Credit Union League is in the initial stages of partnering with Caja Morelia Valladolid.
World Council of Credit Unions is the global trade association and development agency for credit unions. World Council promotes the sustainable development of credit unions and other financial cooperatives around the world to empower people through access to high quality and affordable financial services. World Council advocates on behalf of the global credit union system before international organizations and works with national governments to improve legislation and regulation. Its technical assistance programs introduce new tools and technologies to strengthen credit unions' financial performance and increase their outreach.
World Council has implemented 300+ technical assistance programs in 89 countries. Worldwide, 68,882 credit unions in 109 countries serve 235 million people. Learn more about World Council's impact around the world at www.woccu.org.