Inicio > Sala de Noticias > Boletines Noticiosos



April 28, 2016
Sala de Noticias // Boletines Noticiosos
16 de julio de 2007
WOCCU's Hispanic Marketing Immersion Program Offers New Insight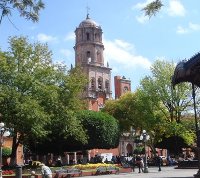 The city of Queretaro provides rich lessons in Mexican history and culture.
Madison, WI— Building on the success of four partnerships among U.S. credit union leagues and Mexican cajas, World Council of Credit Unions (WOCCU) is launching a new Hispanic Marketing Immersion Program in Mexico, September 15–30, 2007.
The program will encourage membership growth in U.S. credit unions by equipping participants with the critical skills and knowledge they need to reach the growing Hispanic market in the United States.
The immersion program includes three main components: cultural exposure through home stays with pre–screened Mexican host families, customized Spanish classes for all levels, hands–on internships and marketing workshops at partner credit union branches in Mexico.
According to Brian Branch, Executive Vice President and Chief Operating Officer, WOCCU's new program grew in response to U.S. credit union demand.
"With its long history and strong relationships with Latin American credit unions and their members," Branch noted, "WOCCU is uniquely positioned to help U.S. credit unions drive membership growth and serve the underserved Hispanic market."
This year's inaugural group of participants will have the unique opportunity to engage in a U.S.–Mexico Credit Union Summit on September 22–23, 2007. Led by WOCCU, credit union leaders from both countries will share their strategies for driving membership growth and building international connectivity.
The first one-week and two-week immersion sessions will take place in the cities of Queretaro and Guanajuato, Mexico, September 15–30, 2007. The deadline for registration is July 31, 2007, and space is limited. Visit http://www.woccu.org/meetings or contact Victor Corro, International Partnerships manager, at vcorro@woccu.org for more information.
WOCCU's International Partnerships program facilitates networking experiences and technical exchanges between developed and developing credit union movements through delegation visits, meetings and volunteer assignments. The California and Nevada Credit Union Leagues and The Texas Credit Union League partnered with Caja Popular Mexicana in 2002; the Arizona Credit Union System partnered with Caja Libertad in 2004 and the New Mexico Credit Union Association partnered with Caja Alianza in 2005. The North Carolina Credit Union League is in the initial stages of partnering with Caja Morelia Valladolid.
El Consejo Mundial de Cooperativas de Ahorro y Crédito es la asociación gremial y agencia de desarrollo para el sistema internacional de cooperativas de ahorro y crédito. El Consejo Mundial promueve el crecimiento sustentable de las cooperativas de ahorro y crédito y otras cooperativas financieras en todo el mundo a fin de facultar a las personas para que mejoren su calidad de vida a través del acceso a servicios financieros asequibles y de alta calidad. El Consejo Mundial realiza esfuerzos de defensa activa en representación del sistema global de las cooperativas de ahorro y crédito ante organizaciones internacionales y trabaja con gobiernos nacionales para mejorar la legislación y la regulación. Sus programas de asistencia técnica introducen nuevas herramientas y tecnologías para fortalecer el desempeño financiero de las cooperativas de ahorro y crédito y profundizar su alcance comunitario.
El Consejo Mundial ha implementado 290 programas de asistencia técnica en 71 países. A nivel mundial, 57,000 cooperativas de ahorro y crédito en 105 países atienden a 217 millones de personas. Obtenga más información sobre el impacto global del Consejo Mundial en www.woccu.org.

Contacto principal:
Rebecca Carpenter
Organización:
World Council of Credit Unions
Correo electrónico:
rcarpenter@woccu.org
Teléfono:
+1-608-395-2031