WOCCU's Stanley Kuehn Named to Cooperative Hall of Fame
Ethiopia Project Director Joins Former CUNA Head Dan Mica in NCBA Honor
October 21, 2010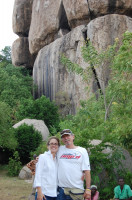 WOCCU's Stanley Kuehn and his wife, Gloria, pictured above in Kenya, will soon be inducted into NCBA's Cooperative Hall of Fame. They have worked in international agricultural development with small farmers for more than 25 years.
MADISON, Wis. — Stanley Kuehn, who heads World Council of Credit Unions' (WOCCU) development program in Ethiopia, and his wife Gloria have been named to the National Cooperative Business Association's (NCBA) Cooperative Hall of Fame. The Kuehns will be formally inducted at the annual Hall of Fame Dinner and Induction Ceremony on May 4, 2011, at the National Press Club in Washington, D.C. Dan Mica, former Credit Union National Association president and CEO, will also be inducted during the ceremonies.
"We are very proud of Stanley and Gloria and our former colleague Dan Mica and pleased that NCBA has recognized their lifetime of achievements," said Pete Crear, WOCCU president and CEO. "Their accomplishments tell a story of an ongoing commitment to the betterment of humankind, a commitment we know will continue at WOCCU."
Working as a family "team" of cooperative developers, the Kuehns have more than 25 years of experience working in Latin America with small farmers to grow non-traditional and organic crops to meet new and growing markets. They worked in El Salvador and Nicaragua during Stanley's tenure as country director in NCBA's international development program and often faced civil unrest, the threat of terrorism and war in order to complete their work.
Since joining WOCCU in June 2009, Stanley has supported agricultural development in Kenya through the country's savings and credit cooperatives (SACCOs). In May 2010, he was named WOCCU's country representative in Ethiopia and project director for "Enhancing Food Security and Rural Livelihoods in Ethiopia through Agricultural and Credit Union Development," a program supported by funds earned through the monetization of wheat provided by the United States Department of Agriculture (USDA). The new assignment further demonstrates his belief in the cooperative model.
"Co-ops provided an organized and structured platform with members in position to provide valuable services to its base," Kuehn was quoted as saying in a 1992 interview for the publication Co-ops in Crisis Countries. "Their staff can be immediately trained to provide much-needed food, technical assistance and training to members and surrounding communities."
Mica, who retired in July, had been at CUNA's helm since 1996. During his 14-year tenure, the former congressman led a number of hard-fought legal and regulatory intitiatives that helped raise credit unions' visibility and respect not only in Washington, D.C., but on the consumer front as well.
Joining the Kuehns and Mica for induction will be civil rights movement pioneer Shirley Sherrod, appointed as the Georgia state director of USDA Rural Development by the Obama Administration in 2009, and cooperative pioneer Noel Estenson, retired CEO of CENEX.
The Cooperative Hall of Fame is administered by the Cooperative Development Foundation (CDF), the 501(c)(3) non-profit affiliate of the National Cooperative Business Association. Nominations are received annually from throughout the cooperative community, with the final selection being made by the NCBA board of directors on the recommendations of a selection committee of national cooperative leaders. Visit the Cooperative Hall of Fame gallery at www.heroes.coop. For dinner attendance information, contact CDF at +1-703-302-8097 or tbuen@cdf.coop.
World Council of Credit Unions is the global trade association and development agency for credit unions. World Council promotes the sustainable development of credit unions and other financial cooperatives around the world to empower people through access to high quality and affordable financial services. World Council advocates on behalf of the global credit union system before international organizations and works with national governments to improve legislation and regulation. Its technical assistance programs introduce new tools and technologies to strengthen credit unions' financial performance and increase their outreach.
World Council has implemented 300+ technical assistance programs in 89 countries. Worldwide, 68,882 credit unions in 109 countries serve 235 million people. Learn more about World Council's impact around the world at www.woccu.org.