WYCUP Session to Offer Credit Union Success 101
Prestigious program grad recommends inventiveness, honesty in career choice
April 23, 2012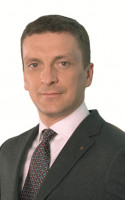 For Grzegorz Buczkowski, the WYCUP experience was "priceless."
GDAŃSK, Poland — Grzegorz Buczkowski didn't know he was headed down a credit union career path when he was hired in 1990 as translator by Poland's Solidarity movement. At the time, a delegation from the trade union that helped overthrow communism was searching for an alternative to a financial service industry left in ruins by the departing communist government. Buczkowski helped bring together parties from Poland and the United States to create what is now acknowledged as one of the world's fastest-growing and most successful credit union movements.
Today, among other obligations, Buczkowski serves as president and chair the Cooperative Savings and Credit Union Mutual Insurance Society (TUW SKOK), a World Council of Credit Unions' associate member organization in Poland. But in 2001, Buczkowski won a scholarship from the WOCCU Young Credit Union People (WYCUP) program that helped set him on his career path. Buczkowski will keynote this year's WYCUP program, which will be held in conjunction with the World Credit Union Conference, scheduled for July 15-18 in Gdańsk, Poland.

"Participating in WYCUP gave me the opportunity to network, exchange ideas and create professional relationships that have lasted to this day," said Buczkowski. "The experience was, to me, priceless."

World Council's WYCUP program, designed for credit union professionals and volunteers under the age of 35, provides specialized educational and networking sessions for its participants, as well as allowing them to participate in the conference networking and general sessions. Five WYCUP participants will be selected to receive scholarships that will provide all-expense-paid trips to the 2013 World Credit Union Conference in Ottawa, Canada, but it's the on-site educational and networking experience that will make this year's WYCUP program worthwhile, Buczkowski said.

"WYCUP gave me an excellent opportunity to network with a younger generation and realize that their emerging viewpoints would change the world," said Buczkowski, who now serves as president of two insurance companies and an insurance brokerage company, all of which serve the Polish credit union system. "I realized that openness, agility and flexibility would become the key factors to a successful business in the future."

The WYCUP program seeks individuals who have already made significant contributions to the development of their own credit unions or regional/national credit union systems and have demonstrated the potential to employ their unique talents at the international level. Credit unions and credit union organizations that are World Council members are encouraged to nominate young leaders to compete for a WYCUP scholarship.

To be eligible for the scholarship, nominees must: 1.) be sponsored by their credit union or credit union organization to attend this year's World Credit Union Conference in Gdańsk; 2.) be 35 years of age or under as of Jan. 1, 2012; and 3.) submit a completed nomination form to World Council with all the necessary supporting materials by June 1.

According to Buczkowski, whose achievements have also led him to be named to the executive committee of Brussels-based Association of Mutuals and Insurance Cooperatives in Europe, participation in WYCUP should be seriously considered by any young person planning a credit union career.

"You must be brave, inventive and honest with yourself," he advised potential WYCUP participants. "You must build things that last, and WYCUP provides the foundation to do so."

For more information on the WYCUP scholarship program and to download a nomination form, visit www.woccu.org/wycup. For questions about WYCUP, contact Lili Tangwall at ltangwall@woccu.org or +1-608-395-2043.
For more information on the World Credit Union Conference, visit www.letsgdansk2012.org.


World Council of Credit Unions is the global trade association and development agency for credit unions. World Council promotes the sustainable development of credit unions and other financial cooperatives around the world to empower people through access to high quality and affordable financial services. World Council advocates on behalf of the global credit union system before international organizations and works with national governments to improve legislation and regulation. Its technical assistance programs introduce new tools and technologies to strengthen credit unions' financial performance and increase their outreach.
World Council has implemented 300+ technical assistance programs in 89 countries. Worldwide, 68,882 credit unions in 109 countries serve 235 million people. Learn more about World Council's impact around the world at www.woccu.org.