Wanted: Credit Union Global Brand Identity
World Council Workshop Articulates Cooperatives' Competitive Difference
April 19, 2012
MADISON, Wis. — Credit unions have made great strides worldwide thanks to consumer disillusionment with for-profit banks during the recent financial recession, but generally speaking there is still a need to better articulate the credit union difference in a way that resonates with today's consumers. That was among the findings of an international group gathered by World Council of Credit Unions to take the first step toward developing a global credit union brand.
The day-and-a-half Build a Brand Workshop, funded by a grant from Vancity Credit Union, brought together 12 credit union and trade association executives from Australia, Canada and the United States earlier this week. The workshop's goal was to identify best practices in current credit union messaging and work together to come up with a refreshed approach as part of the larger strategy to build the global credit union brand, according to Brian Branch, World Council's president and CEO.
"We have learned a lot about changes in consumer preferences, and our members around the world are adapting their messages to today's changing market," said Branch. "We are very grateful to the credit union experts who gave their time and traveled great distances to participate in this important exercise."
In addition to Branch and World Council staff members, workshop participants included Peter Challis, chief executive officer of WAW Credit Union, and Daniel McDougall, senior media advisor for Abacus-Australian Mutuals from Australia; Suzanne Gendron, vice president of executive services, and Nathalie Lachance, vice president of brand management and public relations, for the Desjardins Group in Canada; Paula Martin, advisor to the CEO for Vancity, Mary De Sousa, AVP of marketing for FirstOntario Credit Union, and Rich Harries, community development manager for Affinity Credit Union, all in Canada; Denise Gabel, CFO and strategy officer for the Filene Research Institute, and Sue Mitchell, CEO of Mitchell, Stankovic & Associates, in the U.S.; Trish Shermot, marketing manager for CTCE Federal Credit Union (Pa.), Lynda Savoit, SVP and COO for Orange County's Credit Union (Calif.), and Mark Wolff, SVP of communications at CUNA (D.C.) in the U.S.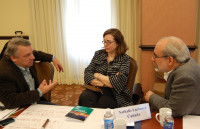 Peter Challis (left) explains marketing challenges Australian credit unions face to Canada's Nathalie Lachance and World Council President and CEO Brian Branch.
The session, moderated by Maya Bourdeau and Jiao Zhang, partners of the consulting firm Attune LLC, offered a blend of expert advice, actual credit union cases studies presented by participants, and a messaging strategy exercise during which the multi-national teams addressed the messaging and brand issues raised during the previous sessions. Challenges facing credit unions included the following:
• In Australia, credit unions have worked hard and improved their brand identity among consumers, but some consumers still perceive them as less safe than for-profit financial institutions.
• In Canada, credit unions have done a good job differentiating themselves, but banks have begun marketing similar social values and consumers tend not to know or care about the difference.
• In the U.S., credit unions have made great strides as well as faced great challenges in recent years largely due to social turmoil, which has made the situation for credit unions complex and the resulting marketing messages mixed.
• In all three countries, credit unions are challenged to attract Generation Y and other younger consumers whose personal values closely match those of cooperatives, but whose communications methods and lack of interest in traditional media make marketing credit unions to them difficult.
Changing consumer behavior is always a challenge, and one made even more complicated by the complex process of changing financial institutions, according to Bourdeau.
Credit unions need to have a clear voice and clear choice, explains Canada's Mary De Sousa.
"People need a compelling reason to switch financial institutions," said Bourdeau. "There is a distinct difference between awareness and action. Action occurs when it can be easily accomplished."
Participants agreed, also citing the need for a clear, simple articulation of the credit union difference presented as a benefit to consumers.
"In a world where banks hold us for ransom, we need to have a voice and choice," said First Ontario's De Sousa, herself a former banker.
Participants experimented with turning credit union principles into benefits and distilling marketing messages into their simplest form. Results from the workshop and the next steps of the brand development process will take place during a session at World Council's World Credit Union Conference July 15-18 in Gdansk, Poland, during which the panelists will present the workshop's results. For more information and to register for the conference, visit www.LetsGdansk2012.org.
In the meantime, Bourdeau advised participants to keep their marketing consumer-centric, pitch a solid benefit and choose an engaging emotional hook in their explanations of the credit union difference. If a messaging strategy can incorporate those attributes, then the credit union difference has a better chance of resonating with more consumers, including the Gen Ys.
World Council of Credit Unions is the global trade association and development agency for credit unions. World Council promotes the sustainable development of credit unions and other financial cooperatives around the world to empower people through access to high quality and affordable financial services. World Council advocates on behalf of the global credit union system before international organizations and works with national governments to improve legislation and regulation. Its technical assistance programs introduce new tools and technologies to strengthen credit unions' financial performance and increase their outreach.
World Council has implemented 300+ technical assistance programs in 89 countries. Worldwide, 68,882 credit unions in 109 countries serve 235 million people. Learn more about World Council's impact around the world at www.woccu.org.
NOTE: Click on photos to view/download in high resolution.