Wanted Worldwide: Credit Union Social Media Strategy
World Council workshop participants brainstorm multimedia opportunities to attract Gen Y members
May 24, 2013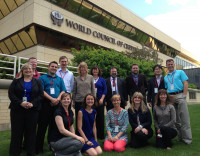 Participants in World Council's Build the Brand Workshop include (front, from left) Tara Bross, USA; Tansley Stearns, USA; Gail Stepanik-Keber, Canada; Heather Harmse, Canada; Tania Goodine, Canada; (standing, from left) Catherine Haberland, USA; Sean McDonald, USA; Josh Allison, USA; Russell Allert, Australia; Janet Garkey, USA; Connie Fedor, USA; Shel Holtz, USA; Daniel Ferretti, Brazil; Kevin Heo, Korea; and David Southall, USA.

MADISON, Wis. — Thirteen credit union and trade association marketing executives from Australia, Brazil, Canada, Korea and the United States met at World Council of Credit Unions' headquarters in Madison, Wis. (USA) earlier this week for a day-and-a-half Build the Brand Workshop, funded by a grant from Vancity Credit Union (Canada). The workshop's goal was to develop strategies for credit unions to reach a younger audience through social media. The event built on the inaugural Build the Brand Workshop last year, which identified credit union messaging that resonates with today's consumers worldwide.
"Social media presents credit unions worldwide with an opportunity to deepen their relationship with members, especially Generation Y," said Brian Branch, World Council president and CEO. "We greatly appreciate the credit union marketing experts' participation and look forward to sharing the results with the rest of the global community at the World Credit Union Conference in Ottawa."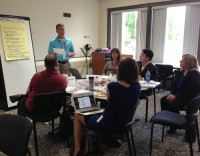 David Southall, president and CEO of Innovations Federal Credit Union (USA), collaborates with participants to brainstorm ways credit unions can provide their members relevant and timely social media content. One idea was to utilize employees across departments.

Moderated by Shel Holtz, principal of Holtz Communication + Technology and expert in integrating technology into communications strategies, the workshop provided a blend of expert advice, participant presentations on credit union social media efforts, and brainstorming sessions during which the multi-national teams addressed opportunities and campaign initiatives to engage younger generations through social media.
Workshop participants included Russell Allert, online communications coordinator of Queenslanders Credit Union (Australia); Daniel Ferretti, chief marketing officer of SICREDI (Brazil); Heather Harmse, digital marketing manager for Vancity Credit Union (Canada), Gail Stepanik-Keber, chief brand and corporate social responsibility officer for Servus Credit Union (Canada); Tania Goodine, vice president brand for Libro Financial Group (Canada); Kevin Heo, international program officer for the National Credit Union Federation of Korea; David Southall, president and CEO for Innovations Federal Credit Union (USA); Tansley Stearns, director of impact for the Filene Research Institute (USA); Connie Fedor, communications manager for the University of Wisconsin Credit Union (USA); Sean McDonald; director of business development for MidState Federal Credit Union (USA); Janet Garkey, manager of member education for Credit Union National Association (USA); Tara Bross, marketing specialist for Linn Area Credit Union (USA); Josh Allison, relationship development manager for Horizon Credit Union (USA).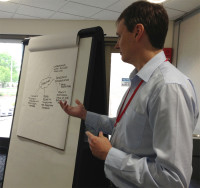 Russell Allert, online communications coordinator of Queenslanders Credit Union (Australia), explains the importance of credit unions using social media to engage with and to listen to their members.

Participants from all five countries addressed the challenges their credit unions face in meeting consumer expectations for social media engagement with limited resources, including a lack of employee training, relevant content curation tools and technological incompatibility with mobile and tablet devices. Participants also agreed that credit unions must incorporate a content strategy that articulates cooperatives' social responsibility philosophy, which they found resonates with younger audiences' personal values.
"The difficulty in attracting younger members is not unique to credit unions in the USA," said workshop participant Sean McDonald in a blog post after the event. "Our challenges are the same, our focus points are the same, and our goals are aligned."
Results from the workshop and further discussion of credit union brand marketing will take place during a session at World Council's 2013 World Credit Union Conference, July 14–17, in Ottawa, Canada. For more information on the conference and to register for the event, visit www.Ottawa2013.org.
World Council of Credit Unions is the global trade association and development platform for credit unions. World Council promotes the sustainable development of credit unions and other financial cooperatives around the world to empower people through access to high quality and affordable financial services. World Council advocates on behalf of the global credit union system before international organizations and works with national governments to improve legislation and regulation. Its technical assistance programs introduce new tools and technologies to strengthen credit unions' financial performance and increase their outreach.
World Council has implemented 300+ technical assistance programs in 89 countries. Worldwide, 89,026 credit unions in 117 countries serve 260 million people. Learn more about World Council's impact around the world at www.woccu.org.