Wegner Award to Recognize International Partnership: WOCCU, California and Texas Leagues with Mexico's Largest Credit Union
NCUF Sees Partnership Benefiting Credit Unions in U.S. and Mexico
NCUF
November 07, 2005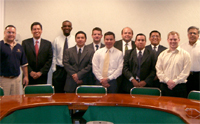 Information technology experts from TCUL, CCUL, WOCCU and Caja Popular Mexicana pose for a photo in Leon, Mexico.
Washington, D.C. – The National Credit Union Foundation (NCUF) will bestow the credit union movement's highest honor on a partnership benefiting credit unions in the U.S. and Mexico.
The World Council of Credit Unions (WOCCU), the California Credit Union League and the Texas Credit Union League, in partnership with Caja Popular Mexicana, have earned the Herb Wegner Memorial Award for Outstanding Program.
The partnership began in 2001 as Mexico's largest credit union was struggling with nearly 20% delinquency, annual net losses, and members losing confidence in the safety of their deposits. The next four years brought countless cultural exchanges, site visits, infrastructure improvements, new product developments and financial education programs.
The financial results are astounding. From Dec. 2001 to June 2005, the credit union:
Reduced delinquency from 18.7% to 4.5%
Built assets from $472 million to $1 billion
Achieved positive returns on assets
Increased membership by 83%, from 477,396 to 874,293
Grew youth savings accounts by 2005%, from 2,336 to 183,795
"This international partnership has essentially transformed Caja Popular Mexicana into a modern, progressive financial institution," observed Victor Miguel Corro, WOCCU's international partnerships manager. "Together all these entities made a difference and now offer a very safe place for Caja Popular Mexicana's members to trust their deposits. The positive impact is especially evident in rural areas where banks have no interest in providing services because there are no profits to be made."
Just as compelling as the financial results are the human benefits that stretch across borders. The partnership helped to bring U.S. Congressional staffers to Mexico to meet members whose lives were touched by the credit union. "The staffers were convinced that helping credit unions through legislation expanding their scope of service is worthy," Corro reported. "When these officials left Mexico, there was no doubt in their minds that there exists a credit union difference. As the staffers put it, 'We don't see banks having these types of relationships.'"
Another benefit to U.S. credit unions is a better understanding of how to serve Hispanics. "Credit union officials in California and Texas have learned about the Hispanic market and are now better equipped to embrace them as new credit union members," Corro explained.
"This partnership helped spread the credit union values of cooperation and volunteerism," agreed Montana Credit Union Network President Tracie Kenyon, who chairs NCUF's Awards & Recognition Committee. "It fostered goodwill between credit union officials in the U.S. and Mexico, created awareness of different cultures, and strengthened the local community through innovative outreach efforts."
For example, the partners encouraged Caja Popular Mexicana to institute a Social Projects Fund and launch a far-reaching program that motivates members to volunteer for community service, including assisting group homes that welcome homeless children.
"This partnership fully highlights the credit union philosophy in the spirit of the Herb Wegner Memorial Awards," Kenyon concluded.
This is the first of three prestigious awards to be celebrated at the Herb Wegner Memorial Awards Dinner at the Hilton Washington on Feb. 26, 2006.
Next week, NCUF will announce the recipient of the Herb Wegner Memorial Individual Achievement Award. The following week, NCUF will announce the recipient of the Herb Wegner Memorial Lifetime Achievement Award.
World Council of Credit Unions is the global trade association and development agency for credit unions. World Council promotes the sustainable development of credit unions and other financial cooperatives around the world to empower people through access to high quality and affordable financial services. World Council advocates on behalf of the global credit union system before international organizations and works with national governments to improve legislation and regulation. Its technical assistance programs introduce new tools and technologies to strengthen credit unions' financial performance and increase their outreach.
World Council has implemented 300+ technical assistance programs in 89 countries. Worldwide, 68,882 credit unions in 109 countries serve 235 million people. Learn more about World Council's impact around the world at www.woccu.org.