Wisconsin League Partnership Trip to Dominican Republic Turns into Lobbying Mission
July 06, 2007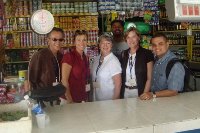 WI League group visits a credit union member who owns a convenience store in Santiago (l-r): Brett Thompson, WI Credit Union League President and CEO; Mary Bliss, WI Credit Union League Director of Human Resources; Jo Whiting, WI Credit Union League Counsel; Carol Adler, Marshfield Medical Center Credit Union President and Victor Corro.
Madison, WI—Four Wisconsin Credit Union League delegates traveled to Santo Domingo in the Dominican Republic on June 19, 2007, encountering an unexpected twist in their first step to an international partnership with Asociación de Instituciones Rurales de Ahorro y Crédito (AIRAC)—a member of the World Council of Credit Unions (WOCCU). "Instead of being a first encounter," explained WOCCU International Partnership Manager, Victor Corro, "the four-day learning tour quickly turned into a lobbying mission."
A bill before the Dominican Republic Congress aims to change the way credit unions operate, and many see it as a potential threat to the industry. If passed, the bill would order the Superintendent of Banks, Rafael Camilo, to treat the six or seven largest credit unions in the Dominican Republic (based on asset size) as traditional banks. With the help of the WI delegation of Brett Thompson, Mary Bliss, Jo Whiting and Carol Adler, AIRAC was able to advocate for continued credit union-specific regulation.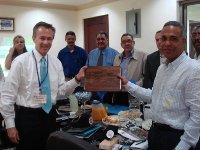 Joaquin Suriel (right), AIRAC Chairman, presents a welcome gift to Brett Thompson (left) as Virginio Rafael Gerardo (center), AIRAC CEO, looks on.
AIRAC and the WI league delegates met with Camilo and gave examples of how credit unions are regulated in the United States and, more specifically, in Wisconsin. "It showed how WOCCU can help get avenues for development in place, even at a first meeting," Corro said.
Over the course of the trip, the AIRAC and WI league group met with several other influential people. Ambassador Clara Quiñones, Under Secretary of State in the Ministry of Foreign Affairs was so passionate about the idea of a partnership that she pledged to be a "voice and an ear for the credit union industry." She also noted her appreciation for the good work that credit unions in the Dominican Republic do to foster economic development and growth.
The group also met with the CEO of the Central Bank of the Dominican Republic, Pedro Silverio, and one of the closest advisors to the President, Jaime David Fernandez Mirabal.
In addition to lobbying, the four Wisconsin league members visited credit union members who have started small businesses with help from their local credit unions—two furniture stores and one local convenience store. For Jo Whiting, League Counsel of the Wisconsin Credit Union League, these visits left a lasting impression. She said, "My favorite part of the trip were the visits to credit union members, in their small businesses, who were making a living themselves and providing employment for others because of the commitment of their credit unions—which provided loans and advice when no one else would.
To get a better feel for how credit unions in the Dominican Republic operate, the WI league group also traveled to three of the country's largest credit unions—Cooperativa Empresarial, Santiago los Caballeros and Cooperativa San José.
The next step in the formal partnership process is scheduled for this fall when representatives from AIRAC will travel to Wisconsin to get to know the U.S. credit union system. Interestingly, a contingent from AIRAC visited Wisconsin when they were first forming their association in 1991. WOCCU and the Wisconsin Credit Union League are excited to welcome them back after 16 years.
WOCCU's International Partnerships program facilitates networking experiences between developed and developing credit union movements through delegation visits, meetings, internships and volunteer assignments. There are currently more than 20 international partnerships worldwide, and the program is rapidly growing as more credit unions see the benefit of sharing ideas and working together to provide better services for all members.
World Council of Credit Unions is the global trade association and development agency for credit unions. World Council promotes the sustainable development of credit unions and other financial cooperatives around the world to empower people through access to high quality and affordable financial services. World Council advocates on behalf of the global credit union system before international organizations and works with national governments to improve legislation and regulation. Its technical assistance programs introduce new tools and technologies to strengthen credit unions' financial performance and increase their outreach.
World Council has implemented 300+ technical assistance programs in 89 countries. Worldwide, 68,882 credit unions in 109 countries serve 235 million people. Learn more about World Council's impact around the world at www.woccu.org.