Wisconsin Rep. Gwen Moore Addresses Global Women's Leadership Network at CUNA/GAC Breakfast Event
Congresswoman commends credit unions for serving low-income communities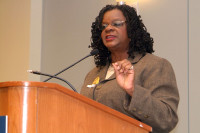 Rep. Gwen Moore of Wisconsin addresses members and supporters of the Global Women's Leadership Network at the annual Networking Breakfast, held in conjunction with CUNA's Governmental Affairs Conference (GAC). (Photo by Larry Glatt)
WASHINGTON, D.C. — More than 140 national credit union members and supporters of the Global Women's Leadership Network gathered at the Walter E. Washington Convention Centre yesterday morning to take up the challenge of advancing credit union women in leadership.
Rep. Gwen Moore of Wisconsin, a member of the House Committee on Financial Services, addressed the group of credit union leaders from 21 states about the fundamental role of credit unions in family economic empowerment. Moore's connection with credit unions runs deep. After having been victimized by predatory lenders herself, she brought together leaders in her community to start a credit union and provide other low-income families with an alternative to meet their financial needs.
Also the immediate past Democratic Chair of the Congressional Caucus for Women's Issues, Moore is a champion for women. She noted a recent study by "The Shriver Report," which found that women make up two-thirds of minimum wage earners in the U.S. and two-thirds of primary and co-breadwinners of families.
"When women struggle financially, it is a national security issue," said Moore. As an advocate for legislation that helps low-income communities, particularly women, Moore commended credit unions for serving this vital segment of the population.
Pat Wesenberg, Central City Credit Union CEO and CUNA board chair, appreciated the insights provided by Moore, noting that a "highlight of the Global Women's Leadership Network breakfast was hearing Congresswoman Gwen Moore share her early struggles and highlight the importance of her credit union providing the financial products and services to help her through these very difficult times. Congresswomen Moore is an exemplary leader, a wonderful example and an inspiration for all women."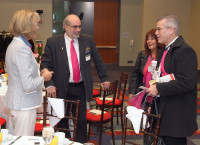 Featured speaker, Commissioner Ramona Prieto, (far left) networks during the breakfast with (from second left to right) Brian Branch, World Council president and CEO; Jude Gogan, San Francisco FCU COO; and Steve Stapp, San Francisco FCU CEO. (Photo by Larry Glatt)
Deputy Commissioner Ramona Prieto of the California Highway Patrol (CHP), a member of C.A.H.P. Credit Union, also addressed the group. Prieto shared her inspiring story of professional growth, drawing parallels between credit unions and the CHP. She emphasized the importance of collective knowledge and collaboration in impacting our communities.
The annual Networking breakfast brings together credit union leaders to hear from industry experts and influential leaders on key issues around investing in credit union women in the credit union movement. In the U.S., 58% of all CEOs are women; this percentage drops to 24% in credit unions with assets above $500 million. In Australia, 8% of CEOs and 27% of board directors are women. In Canada, 27% of CEOs and 28% of board directors are women. Of 43 developing credit union movements surveyed in 2011, women CEO and directors comprise 7% and 30%.
"We have had success in increasing the women membership in credit unions around the world," said Brian Branch, World Council of Credit Unions president and CEO. "Now the Network has taken on the objective to increase the participation of women in management and board leadership."
The Global Women's Leadership Network is a World Council of Credit Unions initiative to advance credit union women in leadership. The Network provides a unique opportunity for credit union women to make a global impact by sharing business knowledge and experiences with industry peers. By supporting the professional development of credit union leaders, Network members are empowered to expand the impact of their credit unions and make a difference in their communities. More than 550 women from 35 countries have been involved with the network since its inception, with regional sister society groups in multiple locations in the U.S. and around the world. Learn more at www.CUwomen.org.
El Consejo Mundial de Cooperativas de Ahorro y Crédito es la asociación gremial y agencia de desarrollo para el sistema internacional de cooperativas de ahorro y crédito. El Consejo Mundial promueve el crecimiento sustentable de las cooperativas de ahorro y crédito y otras cooperativas financieras en todo el mundo a fin de facultar a las personas para que mejoren su calidad de vida a través del acceso a servicios financieros asequibles y de alta calidad. El Consejo Mundial realiza esfuerzos de defensa activa en representación del sistema global de las cooperativas de ahorro y crédito ante organizaciones internacionales y trabaja con gobiernos nacionales para mejorar la legislación y la regulación. Sus programas de asistencia técnica introducen nuevas herramientas y tecnologías para fortalecer el desempeño financiero de las cooperativas de ahorro y crédito y profundizar su alcance comunitario.
El Consejo Mundial ha implementado 290 programas de asistencia técnica en 71 países. A nivel mundial, 57,000 cooperativas de ahorro y crédito en 103 países atienden a 208 millones de personas. Obtenga más información sobre el impacto global del Consejo Mundial en www.woccu.org.

NOTA: Oprima el botón del mouse sobre las fotografías para verlas/descargarlas en alta resolución.
Contacto principal:
Rebecca Carpenter
Organización:
World Council of Credit Unions
Correo electrónico:
rcarpenter@woccu.org
Teléfono:
+1-608-395-2031