Inicio > Sala de Noticias > Boletines Noticiosos



April 29, 2016
Sala de Noticias // Boletines Noticiosos
20 de marzo de 2007
World Council Chairman Gary Plank Honored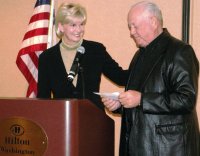 National Credit Union Foundation (NCUF) Chairman Mary Cunningham awards Plank $2,500 for his national credit union achievements. Plank donated the money back to NCUF, which will grant the award to WOCCU's Worldwide Foundation. Photo courtesy of NCUF.
Madison, WI—The American Association of Credit Union Leagues (AACUL) recently honored World Council of Credit Unions board chairman, Gary Plank, Arizona Credit Union System president and CEO, with the Eugene H. Farley League Leadership Award during the Governmental Affairs Conference in Washington, DC.
The Eugene Farley Award recognizes a credit union professional's outstanding efforts in national credit union development. League presidents nominate individuals based on their organizational and financial performance, leadership at the state level, development of credit union services/programs, cooperation within the credit union system, commitment and leadership at the national level.
Plank, in his 10th year as president and CEO of the Arizona Credit Union System, was nominated in part for helping develop Arizona Credit Union System's successful indirect lending program with Arizona auto dealers. He was also recognized for building a strong advocacy program, collaborating with area leagues on various programs, establishing new headquarters for the league and for being a leader in credit union philanthropy.
"Gary has demonstrated his staunch belief in the difference credit unions can make in people's lives during his 10 years on World Council's board of directors. We are proud to see he has been recognized for his tireless efforts on the national level as well," said World Council CEO Pete Crear.
Plank worked for state leagues in South Dakota, Iowa and Minnesota before taking on the role of president and CEO of the Arizona Credit Union System in 1997, the same year he was elected to World Council's board. He has been World Council chairman since 2005. Plank has also served on the Credit Union National Association board of directors and several committees over the years. He will be retiring this year from the Arizona league and World Council.
The award is named after Eugene H. Farley, who retired in 1999 after 40 years of service to the Virginia Credit Union League. AACUL established the Eugene H. Farley League Leadership Award in 2000 to recognize the extraordinary efforts of league personnel. It is endowed by a contribution from former CUNA Mutual CEO, Richard M. Heins.
El Consejo Mundial de Cooperativas de Ahorro y Crédito es la asociación gremial y agencia de desarrollo para el sistema internacional de cooperativas de ahorro y crédito. El Consejo Mundial promueve el crecimiento sustentable de las cooperativas de ahorro y crédito y otras cooperativas financieras en todo el mundo a fin de facultar a las personas para que mejoren su calidad de vida a través del acceso a servicios financieros asequibles y de alta calidad. El Consejo Mundial realiza esfuerzos de defensa activa en representación del sistema global de las cooperativas de ahorro y crédito ante organizaciones internacionales y trabaja con gobiernos nacionales para mejorar la legislación y la regulación. Sus programas de asistencia técnica introducen nuevas herramientas y tecnologías para fortalecer el desempeño financiero de las cooperativas de ahorro y crédito y profundizar su alcance comunitario.
El Consejo Mundial ha implementado 290 programas de asistencia técnica en 71 países. A nivel mundial, 57,000 cooperativas de ahorro y crédito en 105 países atienden a 217 millones de personas. Obtenga más información sobre el impacto global del Consejo Mundial en www.woccu.org.

Contacto principal:
Rebecca Carpenter
Correo electrónico:
rcarpenter@woccu.org
Teléfono:
+1-608-395-2031