Inicio > Sala de Noticias > Boletines Noticiosos



April 29, 2016
Sala de Noticias // Boletines Noticiosos
07 de diciembre de 2006
World Council Convenes in the Caribbean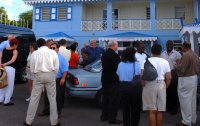 World Council officials at the Nevis Co-operative Credit Union (NCCU). Photo courtesy of NCCU.
Madison, WI—World Council board members from around the world represented the global credit union movement in St. Kitts and Nevis November 29 - December 1 for the their final meeting of the year.
During their visit, Chairman Gary Plank (Credit Union National Association, Arizona Credit Union League), 1st Vice Chairman Melvin Edwards (Caribbean Confederation of Credit Unions, CCCU) and Pete Crear, World Council CEO, met with the governor of East Caribbean Central Bank, Sir Dwight Venner, to discuss the important contributions credit unions make to local communities and national economies.
The board agreed to propose that the Asian Confederation of Credit Unions be welcomed into full World Council membership at the next annual general assembly, and the St. Kitts and Nevis Credit Union League made history by becoming the largest World Council Supporter from the Caribbean.
Board members from Poland, Guatemala, Peru, Australia, New Zealand, the United States, Canada, Ireland, Malawi and St. Lucia also visited St. Kitts Credit Union, St. Nevis Credit Union and the offices of World Council's Caribbean member, CCCU.
"The strength of the Caribbean credit union movement and its deep community ties were evident throughout each of the visits," Crear commented. "World Council appreciated the warm hospitality of the St. Kitts and Nevis National Co-operative League and Minister of Co- operatives, Mr. Cedric Liburd."
El Consejo Mundial de Cooperativas de Ahorro y Crédito es la asociación gremial y agencia de desarrollo para el sistema internacional de cooperativas de ahorro y crédito. El Consejo Mundial promueve el crecimiento sustentable de las cooperativas de ahorro y crédito y otras cooperativas financieras en todo el mundo a fin de facultar a las personas para que mejoren su calidad de vida a través del acceso a servicios financieros asequibles y de alta calidad. El Consejo Mundial realiza esfuerzos de defensa activa en representación del sistema global de las cooperativas de ahorro y crédito ante organizaciones internacionales y trabaja con gobiernos nacionales para mejorar la legislación y la regulación. Sus programas de asistencia técnica introducen nuevas herramientas y tecnologías para fortalecer el desempeño financiero de las cooperativas de ahorro y crédito y profundizar su alcance comunitario.
El Consejo Mundial ha implementado 290 programas de asistencia técnica en 71 países. A nivel mundial, 57,000 cooperativas de ahorro y crédito en 105 países atienden a 217 millones de personas. Obtenga más información sobre el impacto global del Consejo Mundial en www.woccu.org.