Inicio > Sala de Noticias > Boletines Noticiosos



April 29, 2016
Sala de Noticias // Boletines Noticiosos
11 de marzo de 2004
World Council PTP Partners Assist Mexico's Largest CU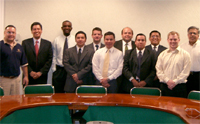 Information technology experts from TCUL, CCUL, WOCCU and Caja Popular Mexicana pose for a photo in Leon, Mexico.
Madison, WI—A recent World Council of Credit Unions, Inc. (WOCCU) People to People Partnership exchange helped Mexico's largest credit union, Caja Popular Mexicana (CPM) move forward on choosing an information system to connect its 326 branches.
Top information technology representatives from the Texas Credit Union League, California Credit Union League and World Council traveled to Leon, Mexico to work with Caja Popular Mexicana's information technology managers. During the three-day assignment the group assisted in the analysis of proposed systems. CPM has five major goals for the new computer system. They hope to centralize the database, expand communication by linking branches together, make creation of new products easier, manage technological risk and respond to the future needs of CPM. The total cost of the project is $15 million, which also includes planning and implementation of the new system.
Caja Popular Mexicana serves close to 700,000 members, processing 4.2 million transactions a month and employs 2,300 people. The credit union currently has over $600 million in assets. The centralization of data will only continue to assist in the growth of the organization and expansion of services to members.
Steve Schaefer, WOCCU technical officer explained, "CPM followed an extremely detailed process and a well prepared plan for implementing the new system. They were grateful for the technical assistance provided by the team and we also learned a great deal from CPM's planning process."
At the completion of the three-day exchange the delegation presented CPM with their recommendations on the software vendor that best fit their needs and specific tasks that would help them have a successful implementation.
"This exchange shows the value of the partnerships. WOCCU was happy to be a facilitator in bringing expertise to the table for our members," noted Arthur Arnold, WOCCU president and CEO. World Council and CPM partners the Texas and California Credit Union Leagues will continue to assist in an advisory role in the roll out of the new system.
El Consejo Mundial de Cooperativas de Ahorro y Crédito es la asociación gremial y agencia de desarrollo para el sistema internacional de cooperativas de ahorro y crédito. El Consejo Mundial promueve el crecimiento sustentable de las cooperativas de ahorro y crédito y otras cooperativas financieras en todo el mundo a fin de facultar a las personas para que mejoren su calidad de vida a través del acceso a servicios financieros asequibles y de alta calidad. El Consejo Mundial realiza esfuerzos de defensa activa en representación del sistema global de las cooperativas de ahorro y crédito ante organizaciones internacionales y trabaja con gobiernos nacionales para mejorar la legislación y la regulación. Sus programas de asistencia técnica introducen nuevas herramientas y tecnologías para fortalecer el desempeño financiero de las cooperativas de ahorro y crédito y profundizar su alcance comunitario.
El Consejo Mundial ha implementado 290 programas de asistencia técnica en 71 países. A nivel mundial, 57,000 cooperativas de ahorro y crédito en 105 países atienden a 217 millones de personas. Obtenga más información sobre el impacto global del Consejo Mundial en www.woccu.org.

Teléfono: (608) 395-2000