World Council Program Provides Guatemalan Participants Practical Knowledge
World Council Program Provides Guatemalan Participants Practical Knowledge
May 09, 2012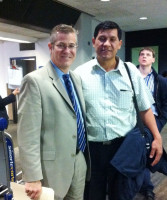 Steven Stapp (left), president and CEO of San Francisco Federal Credit Union (SFFCU), welcomes Carlos Enrique Paredez to California, where Paradez participated in World Council's International Credit Union Leadership Program. SFFCU, which hosted Paradez, was one of eight California and Iowa credit unions hosting the 10 Guatemalan visitors in April.
WASHINGTON, D.C. — Carlos Enrique Paredez, a branch manager for Cooperativa de Ahorro y Crédito Guayacán in Guatemala, knows his credit union must keep pace with the market to remain competitive. Lessons learned during World Council of Credit Unions' International Credit Union Leadership Program (ICULP), particularly those involving web page development and maintaining a balanced member focus, will help his institution achieve greater success.
"One of my objectives was also to learn how I could increase deposits in my credit union," Paredez said. "I realized that we focus too much on youth savings and should instead focus on older adults who have more of a capacity to save."
Paredez was one of the 10 Guatemalan ICULP scholarship recipients who spent nearly a month interning at credit unions in California and Iowa. The ICULP program, part of the U.S. Department of State's Professional Fellows program, paired participants with eight U.S. credit unions coordinated with the help of the California and Nevada Credit Union Leagues and the Iowa Credit Union League. Group members finished the last week of their internships in Washington, D.C., where they met with credit union organizations and participated in the Professional Fellows Congress.
"The lessons learned by program participants will be invaluable to the growth and success of their credit unions in Guatemala," said Brian Branch, World Council president and CEO. "We greatly appreciate the participation of the credit unions in California and Iowa and their trade associations in providing exceptional internship opportunities."
Participating California credit unions included: Family Federal Credit Union, Wilmington; SCE Federal Credit Union, Irwindale; Nikkei Credit Union, Gardena; Patelco Credit Union, Pleasanton; San Francisco Federal Credit Union, San Francisco; and Water and Power Community Credit Union, Los Angeles. Participating Iowa credit unions included Des Moines Metro Credit Union, Des Moines; and Greater Iowa Credit Union, Ames.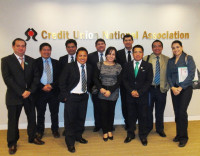 Program participants from Guatemala who were part of the leadership program visited CUNA's Washington, D.C., office. Among the group and their home credit unions and organizations were (from left): Billy Rodas, Fondo de Garantia FENACOAC; Juan Jimenez, COPECOM; Roberto Monge, FENACOAC; Victor Garcia, Acredicom; Carlos Paredez, Guayacán; Derik Rudeen, UPA; Sandra Chacon, Cootecu; Carlos Mucun, Colua; Cintia Alvarado, Chiquimulja; Rene Lopez, Guadalupana.


In September 2011, the World Council's Worldwide Foundation for Credit Unions received a grant to run a Professional Fellows project later branded as the International Credit Union Leadership Program. The program educates young entrepreneurs in the credit union industry through a series of four exchanges. The next exchange will include a delegation of 10 U.S. credit union representatives traveling to Guatemala for a two-week credit union internship in June.

While in D.C., the Guatemalan interns visited the National Credit Union Administration (NCUA) to study the regulatory structure governing U.S. credit unions. Participants learned how NCUA examines credit unions in order to protect the share deposit insurance fund, and learned lessons about the agency's other powers and responsibilities. The NCUA visit was particularly relevant since the Guatemalan credit union system, MICOOPE, recently launched its own private deposit guarantee fund to protect its 26 credit unions that serve an aggregate 1 million members.
The group also met with Credit Union National Association (CUNA) and World Council officials to better understand the roles played by national and international trade associations in protecting and advocating for credit union interests. Pat Sowick, CUNA SVP of league relations, also shared with the group how CUNA advocates on behalf of its more than 7,300 member credit unions and the importance of the league relations in communicating with those members.
The week ended with the Professional Fellows Congress organized by global education firm World Learning and sponsored by the U.S. Department of State, Bureau of Educational and Cultural Affairs, Office of Citizen Exchanges. The two-day event brought all 18 Professional Fellows programs together with a total of 200 participants from 49 countries. The congress featured Ambassador Wendy R. Sherman, the U.S. Department of States' undersecretary for political affairs, as a keynote speaker and involved many other U.S. Department of State staff from the Office of Citizen Exchanges. The congress also included many breakout sessions focused on ways to implement the ideas and best practices learned by participants in their home countries.
In a final program debriefing with the Guatemalans, participants shared new insights they had gained from the program and the benefits it will bring to their credit unions along with suggestions for improvement.

"I want say thank you to the World Council and the U.S. Department of State for this great opportunity," said Roberto Monge, human resource manager for MICOOPE. "It really will be a great advantage and source of growth for the cooperative industry and the development of our country."
World Council of Credit Unions is the global trade association and development agency for credit unions. World Council promotes the sustainable development of credit unions and other financial cooperatives around the world to empower people through access to high quality and affordable financial services. World Council advocates on behalf of the global credit union system before international organizations and works with national governments to improve legislation and regulation. Its technical assistance programs introduce new tools and technologies to strengthen credit unions' financial performance and increase their outreach.
World Council has implemented 300+ technical assistance programs in 89 countries. Worldwide, 68,882 credit unions in 109 countries serve 235 million people. Learn more about World Council's impact around the world at www.woccu.org.
NOTE: Click on photos to view/download in high resolution.