World Council Seeks Next Generation of Credit Union Leaders
It's time to submit 2012 WYCUP nominations
January 25, 2012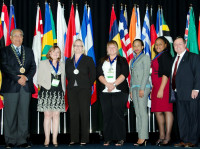 World Council Chair Manuel Rabines, Peru (far left); and Director and Awards Committee Chair Ron Hance, USA (far right); presented the 2011 WYCUP scholarships in Glasgow, Scotland, to recipents (second from left) Edel McKenna, Ireland; Michelle Coehlo, Australia; Marcy Lovberg, Canada; Tracia Pounder, Barbados; and Yola Charles, Trinidad & Tobago.
MADISON, Wis. — Hardworking and successful credit union staff and volunteers age 35 and under please take note: World Council of Credit Unions is accepting nominations for the 2012 WOCCU Young Credit Union People (WYCUP) scholarship program. The deadline for all nominations is June 1, 2012. Scholarships will be presented at the World Credit Union Conference in Gdańsk, Poland, in July.
The WYCUP program seeks individuals who have already made significant contributions to the development of their own credit unions or regional/national credit union systems and have demonstrated the potential to employ their unique talents at the international level. Credit unions and credit union organizations that are World Council members are encouraged to nominate young leaders to compete for a WYCUP scholarship.
"The hallmark of any profession is its willingness to prepare its future leadership," said Brian Branch, World Council president and CEO. "The WYCUP scholarship program cultivates and supports the leadership credit unions will need on a global basis in the years to come."
To be eligible for the scholarship, nominees must: 1) be sponsored by their credit union or credit union organization to attend the 2012 World Credit Union Conference in Gdańsk, Poland, in July; 2) be 35 years of age or under as of Jan. 1, 2012; and 3) submit a completed nomination form to World Council with all the necessary supporting materials by June 1.
WYCUP scholarships—all-expense-paid trips to the 2013 World Credit Union Conference in Ottawa, Ontario, Canada—will be awarded to five recipients at the 2012 conference in Gdańsk. All WYCUP nominees, regardless of award status, will be formally recognized in Gdańsk and invited to take part in events and networking sessions organized throughout the conference specifically for participants age 35 and under. Conference registrants in this age bracket also qualify for a discounted registration fee, regardless of whether or not they compete for the scholarship.
For more information on the WYCUP scholarship program and to download a nomination form, visit www.woccu.org/wycup. For questions about WYCUP, contact Liliana Tangwall at ltangwall@woccu.org or +1-608-395-2043.
For more information on the World Credit Union Conference, visit www.letsgdansk2012.org.
World Council of Credit Unions is the global trade association and development agency for credit unions. World Council promotes the sustainable development of credit unions and other financial cooperatives around the world to empower people through access to high quality and affordable financial services. World Council advocates on behalf of the global credit union system before international organizations and works with national governments to improve legislation and regulation. Its technical assistance programs introduce new tools and technologies to strengthen credit unions' financial performance and increase their outreach.
World Council has implemented 300+ technical assistance programs in 89 countries. Worldwide, 68,882 credit unions in 109 countries serve 235 million people. Learn more about World Council's impact around the world at www.woccu.org.
NOTE: Click on photos to view/download in high resolution.