World Council Seeks U.S. Candidates to Intern in the Dominican Republic
International Credit Union Leadership Program facilitates idea exchanges for young credit union professionals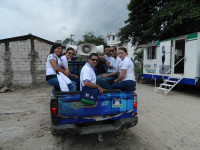 In June 2012, World Council's International Credit Union Leadership Program participants and their Guatemalan hosts delivered services to rural members through a credit union's mobile branch. 

MADISON, Wis. — World Council of Credit Unions is calling for U.S. credit union applicants for the organization's International Credit Union Leadership Program, next taking place in the Dominican Republic in January 2013. The program, funded by a grant from the U.S. Department of State, Bureau of Educational and Cultural Affairs, Office of Citizen Exchanges, is part of the larger U.S. Department of State Professional Fellows Program.
The International Credit Union Leadership Program, which promotes internships for young credit union professionals from various countries, is designed to facilitate idea exchanges, promote foreign language skill development, enhance cultural diversity and improve problem-solving skills as they relate to credit union development and management on a global basis. In addition, participants will focus on finding new ways to attract younger members to their credit unions.
In the program's first phase, 10 Guatemalan participants interned at credit unions in Iowa and California. As part of the reciprocal exchange, nine U.S. credit union professionals then interned in Guatemala. Nine representatives from the Dominican Republic are now currently studying credit union best practices in Wisconsin and North Carolina.
Recruiting has started for the fourth phase seeking 11 U.S. credit union professionals to intern at credit unions in the Dominican Republic. The internships, which run January 13–26, 2013, offer an excellent opportunity for emerging credit union leaders to better understand how Dominican credit unions serve underserved populations and support their communities through member education and other special initiatives.
The program provides each participant with free lodging through a local host family, a food stipend, local transportation, travelers insurance and a modest communications stipend. Applicants must be able to participate in the full two-week program in order to qualify for selection. It is the applicants' responsibility to arrange for time away from their credit unions prior to their participation. The sponsoring U.S. credit union is responsible for covering an airfare cost of US$1,350 as a sign of commitment to the professional development of their staff.
The selection criteria for U.S. program participants are:
Be 40 years of age or younger on Sept. 1, 2011
Demonstrate personal commitment and the ability to significantly influence credit union operations
Show leadership, entrepreneurial skills and demonstrate how personal initiative has contributed to credit union development
Exhibit the potential to advance the national or international credit union system through initiatives that would also foster community development
Be actively involved as an employee or board member of a credit union or organization affiliated with World Council through the Credit Union National Association or a state credit union league
Be available to travel on the specific dates outlined by the program
Have intermediate-to-advanced Spanish language skills

All participants are required to submit an application with an essay and pass a phone or web interview process.
More information and a program application form are at www.woccu.org/leadershipprogram. Applications must be submitted by Nov. 16, 2012, to Michael Suing, World Council program specialist, msuing@woccu.org or by fax at +1-608-395-2001. Applicants should confirm the receipt of faxed submissions by email. Candidate interviews will take place by phone or a web-based program the week of Nov. 26.

El Consejo Mundial de Cooperativas de Ahorro y Crédito es la asociación gremial y agencia de desarrollo para el sistema internacional de cooperativas de ahorro y crédito. El Consejo Mundial promueve el crecimiento sustentable de las cooperativas de ahorro y crédito y otras cooperativas financieras en todo el mundo a fin de facultar a las personas para que mejoren su calidad de vida a través del acceso a servicios financieros asequibles y de alta calidad. El Consejo Mundial realiza esfuerzos de defensa activa en representación del sistema global de las cooperativas de ahorro y crédito ante organizaciones internacionales y trabaja con gobiernos nacionales para mejorar la legislación y la regulación. Sus programas de asistencia técnica introducen nuevas herramientas y tecnologías para fortalecer el desempeño financiero de las cooperativas de ahorro y crédito y profundizar su alcance comunitario.
El Consejo Mundial ha implementado 290 programas de asistencia técnica en 71 países. A nivel mundial, 57,000 cooperativas de ahorro y crédito en 105 países atienden a 217 millones de personas. Obtenga más información sobre el impacto global del Consejo Mundial en www.woccu.org.

NOTA: Oprima el botón del mouse sobre las fotografías para verlas/descargarlas en alta resolución.
Contacto principal:
Rebecca Carpenter
Organización:
World Council of Credit Unions
Correo electrónico:
rcarpenter@woccu.org
Teléfono:
+1-608-395-2031