World Council Supports Revisions to Global Anti-money Laundering Regulations
Financial Action Task Force rules prove scalable to credit unions
April 04, 2012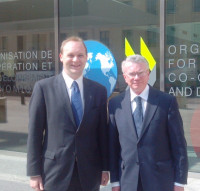 World Council's Michael Edwards (left) and CUCC's David Phillips represented financial cooperatives in a discussion with the Financial Action Task Force to promote credit unions' low-risk as money laundering targets.
PARIS — World Council of Credit Unions yesterday came out in strong support of revisions to regulations developed by the Financial Action Task Force (FATF) designed to combat money laundering and terrorist financing, and supported the FATF's revised due diligence recommendations that can be scaled to acknowledge credit union members' relative lack of risk in these areas. World Council representatives spoke to this issue at an April 2 meeting held by FATF at the Paris headquarters of the Organization for Economic Cooperation and Development, where the inter-governmental regulatory body is domiciled.

More than 100 participants attended the two-day meeting to discuss revisions to FATF's International Standards on Combatting Money Laundering and the Financing of Terrorism and Proliferation, better known as the 40 recommendations. World Council supports the recommendations overall, and especially the FATF's revised customer due diligence (CDD) recommendations that should apply to the relatively low-risk scenarios offered through credit unions, according to Michael Edwards, World Council chief counsel and vice president for advocacy and government affairs.

"World Council strongly supports the FATF's recommendations and interpretive notes regarding simplified CDD measures for lower risk customers and transactions," said Edwards, who represented the global credit union trade organization with David Phillips, president and CEO of Credit Union Central of Canada, a World Council member organization. "We asked the FATF to consider issuing additional guidance on this issue to help reduce regulatory burdens on credit unions when there is no indication of money laundering or terrorist financing."

The revisions World Council supports are those recognizing the relative lack of risk generally offered by credit union members and their transactions. As natural-person financial cooperatives, credit unions do not serve corporate entities with opaque ownership structures that might easily hide criminal money laundering or terrorist activities. Credit unions generally know their members, making such activities harder to mask, Edwards said.
Language already exists within the CDD recommendations offering a simplified approach, which World Council believes will reduce regulatory burdens to levels appropriate to the general risk found in credit unions, Edwards explained. FATF reacted positively to World Council's comments, noting that while a simplified CDD could not uniformly apply to all credit unions on an institution-wide basis, national or provincial regulators could reduce regulatory burdens on credit unions in cases where members were likely to be low-risk.

"The renewed emphasis on a risk-based approach in the revised FATF standards is a welcome change," said Phillips. "This opens new opportunities for the design of anti-money laundering regulation that is appropriate for credit unions."

FATF's revisions also indicate further recognition that credit unions generally pose less risk overall due to their cooperative nature and the role played by their member-owners, according to Brian Branch, World Council president and CEO.

"We urge FATF to recognize the value of financial cooperatives' relationships with their members through the simplified customer due diligence revisions," said Branch. "Credit unions continue to be a positive global economic force and recognition of that role by global regulatory bodies is necessary to maintain and protect that positive role that financial cooperatives fulfill."


World Council of Credit Unions is the global trade association and development platform for credit unions. World Council promotes the sustainable development of credit unions and other financial cooperatives around the world to empower people through access to high quality and affordable financial services. World Council advocates on behalf of the global credit union system before international organizations and works with national governments to improve legislation and regulation. Its technical assistance programs introduce new tools and technologies to strengthen credit unions' financial performance and increase their outreach.
World Council has implemented 300+ technical assistance programs in 89 countries. Worldwide, 89,026 credit unions in 117 countries serve 260 million people. Learn more about World Council's impact around the world at www.woccu.org.