World Council of Credit Unions Welcomes New Members
Colombia, Liberia join global credit union trade group
July 18, 2012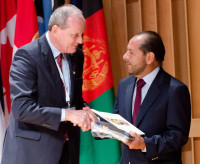 World Council Director Manfred Dasenbrock (left) present's FECOLFIN's Jaime Chavez with a World Council flag signifying membership.
GDAŃSK, Poland — One new and one newly revived credit union trade group have joined World Council of Credit Unions. The two new members, as well as four organizations that have joined World Council since July 2011, were announced Monday at World Council's 2012 annual general meeting, held in conjunction with the World Credit Union Conference currently underway in Gdańsk, Poland.
Federación Nacional de Cooperativas de Ahorro y Crédito Financieras (FECOLFIN), which represents Colombia's largest credit unions, joined World Council as a direct member. FECOLFIN was chartered in March and may be the world's newest credit union association. Part of the group's growth strategy includes joining World Council. Jaime Chavez, the trade group's CEO, was present at the meeting to accept the World Council flag denoting its new membership.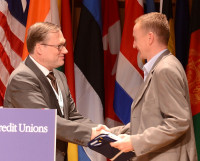 World Council First Vice Chair Grzegorz Bierecki (left) welcomes Efim Lupanciuc and CASCA into membership.
The Liberian Credit Union National Association (LCUNA) joined World Council as an affiliate member. Liberia's credit unions have existed for some time, but political conditions within the country had rendered the credit unions and their trade association inactive. With support from the Liberian government and its central bank, Liberia's credit unions and LCUNA are once again functional. Unfortunately, no LCUNA representatives were able to attend the meeting.
Other new members approved since the 2011 annual general meeting and present at this year's meeting included the Central Association of Savings and Credit Associations (CASCA), which represents Moldova's credit unions as a direct World Council member. CASCA Executive Director Efim Lupanciuc accepted the World Council flag.
New associate members honored included Credit Union Direct, administrators of the largest auto lending network in the United States; Credit Union Shared Services Cooperative Ltd. (CUSSCO), a credit union service organization owned by Capital Credit Union Ltd. and Scotwest Credit Union, both located in Scotland, United Kingdom; and Cooperativa Médica del Valle (COOMEVA), a cooperatively owned financial holding company based in Colombia. Credit Union Direct's Jerry Neeman and CUSSCO's Marlene Shiels were on hand to accept the World Council flags denoting their memberships.
The World Credit Union Conference runs through July 18.
| | |
| --- | --- |
| Former World Council Chair Barry Jolette presents CU Direct's Jerry Neeman with a World Council flag. | World Council Secretary Louise Petschler (left) welcomes CUSSCO's Marlene Shiels, a former World Council director, into membership. |
World Council of Credit Unions is the global trade association and development platform for credit unions. World Council promotes the sustainable development of credit unions and other financial cooperatives around the world to empower people through access to high quality and affordable financial services. World Council advocates on behalf of the global credit union system before international organizations and works with national governments to improve legislation and regulation. Its technical assistance programs introduce new tools and technologies to strengthen credit unions' financial performance and increase their outreach.
World Council has implemented 300+ technical assistance programs in 89 countries. Worldwide, 89,026 credit unions in 117 countries serve 260 million people. Learn more about World Council's impact around the world at www.woccu.org.