Inicio > Sala de Noticias > Boletines Noticiosos



May 5, 2016
Sala de Noticias // Boletines Noticiosos
08 de septiembre de 2006
World Council's Crear and Branch Welcomed at Dominican Republic AGM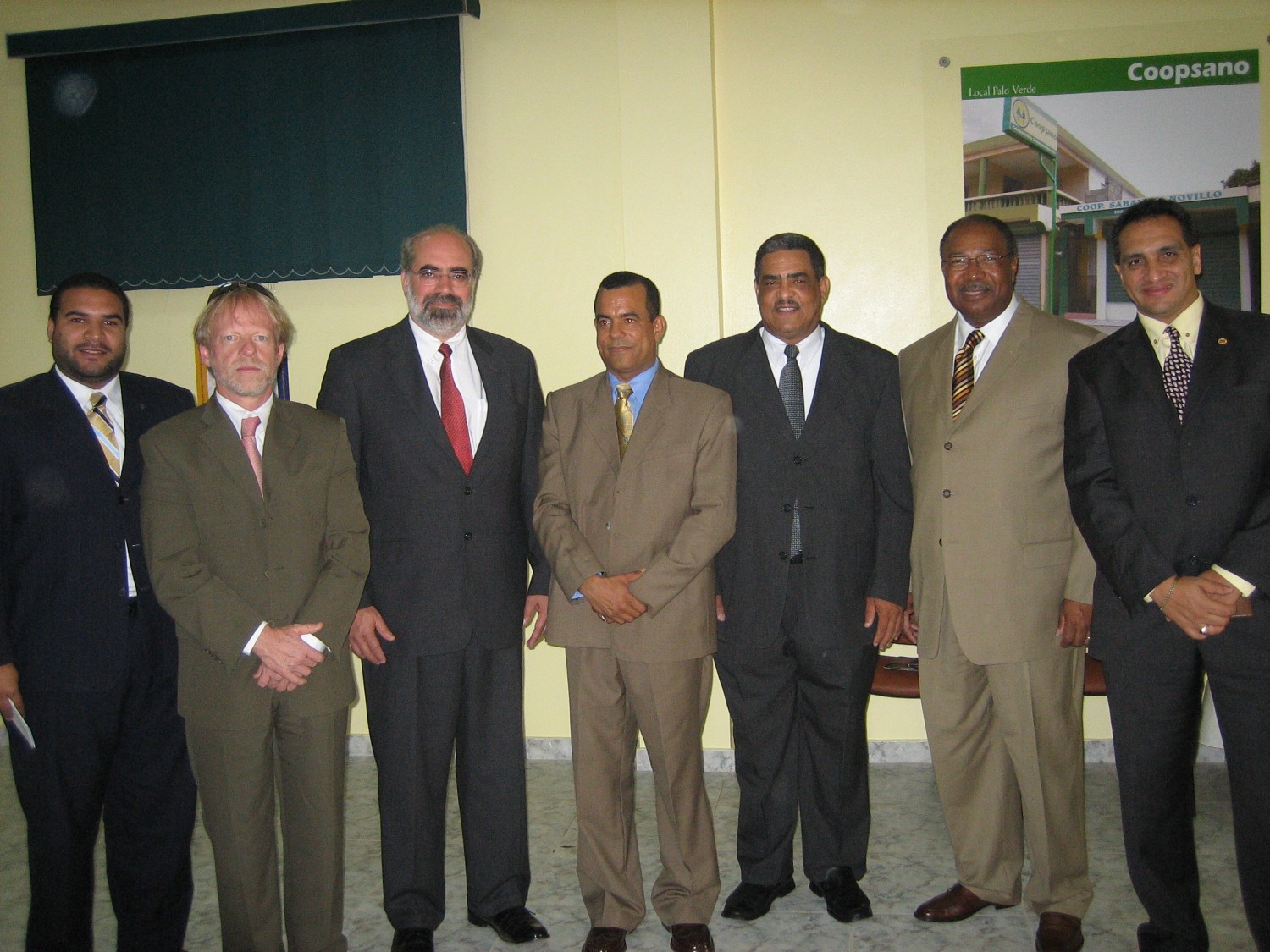 (l-r) Rubén Bonilla, account manager, CUNA Mutual Group; Lorenzo Goetz, CEO, COSEFI; Brian Branch, COO, WOCCU; Darío Lantigua, CEO, Coopsano; Virginio Rafael Gerardo, executive director, AIRAC; Pete Crear, CEO, WOCCU; Javier Tejeda-Vera, vice president, CUNA Mutual Group–Caribbean/Latin America.
World Council of Credit Unions' Dominican Republic member, Asociación de Instituciones Rurales de Ahorro y Crédito, Inc. (AIRAC), hosted CEO Pete Crear and Dr. Brian Branch, Chief Operating Officer, at their Annual General Meeting, August 25-26.
AIRAC invited Crear and Branch to address the assembly on international credit union issues. During his lecture, Crear outlined current challenges and practices in the international credit union system. He praised the Dominican Republic's accomplishments in technological innovation, which has included the development of a service corporation that offers accounting systems to credit unions. Crear also reminded attendees that innovation and progress require constant exploration for improvement. He encouraged the movement to remain at the forefront and continue seeking ways to improve technology as times and needs change.
"Working collaboratively, solutions are found and implemented," Crear told the attendees. "So what are our opportunities?"
Credit unions in the Dominican Republic are currently working with legislators, the Central Bank and Government Cooperative Institutes to develop policies for credit union legislation and supervision. AIRAC has been helping credit unions prepare for many required financial standards and internal controls that will come under the new regulatory framework.
Branch shared his expertise on the topic in his presentation on credit union supervision. Emphasizing the tenets of the "credit union difference", Branch discussed models for supervision, steps in regulatory transition and international standards in regulation and governance.
"World Council and CUNA Mutual are committed to collaborating and working together with AIRAC to support a positive transition of credit unions to a strengthened regulatory framework," Branch said.
Javier Tejeda, vice president of CUNA Mutual Group–Caribbean/Latin America, also shared results of a survey they had conducted regarding the state of the credit union movement in Latin America.
AIRAC is the World Council representative in the Dominican Republic and is closely affiliated with CUNA Mutual Group. AIRAC represents 14 credit unions with close to 176,000 members.
El Consejo Mundial de Cooperativas de Ahorro y Crédito es la asociación gremial y agencia de desarrollo para el sistema internacional de cooperativas de ahorro y crédito. El Consejo Mundial promueve el crecimiento sustentable de las cooperativas de ahorro y crédito y otras cooperativas financieras en todo el mundo a fin de facultar a las personas para que mejoren su calidad de vida a través del acceso a servicios financieros asequibles y de alta calidad. El Consejo Mundial realiza esfuerzos de defensa activa en representación del sistema global de las cooperativas de ahorro y crédito ante organizaciones internacionales y trabaja con gobiernos nacionales para mejorar la legislación y la regulación. Sus programas de asistencia técnica introducen nuevas herramientas y tecnologías para fortalecer el desempeño financiero de las cooperativas de ahorro y crédito y profundizar su alcance comunitario.
El Consejo Mundial ha implementado 290 programas de asistencia técnica en 71 países. A nivel mundial, 57,000 cooperativas de ahorro y crédito en 105 países atienden a 217 millones de personas. Obtenga más información sobre el impacto global del Consejo Mundial en www.woccu.org.

Contacto principal:
Lili Tangwall
Correo electrónico:
ltangwall@woccu.org
Teléfono:
(608) 395-2043