Inicio > Sala de Noticias > Boletines Noticiosos



May 1, 2016
Sala de Noticias // Boletines Noticiosos
03 de agosto de 2006
World Credit Union Conference Advances Global Movement
International Leaders Celebrate Credit Unions, Exchange Best Practices and Address Challenges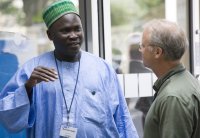 Attendees at the World Credit Union Conference meet from around the world to exchange ideas, best practices, and start and renew friendships.
For 1,850 credit union leaders and guests from 48 countries, the World Credit Union Conference in Dublin, Ireland, July 27-30, was a rare opportunity to interact with credit union volunteers, senior-level executives, expert speakers, regulators and advocates from around the globe.
Held annually by the World Council of Credit Unions, Inc. (WOCCU), the World Credit Union Conference is the premier forum for trend analyses, exchange of innovations and networking. The Dublin conference, co-hosted by the Irish League of Credit Unions, provided participants an exciting venue in Ireland's charming "City of Living Culture" and insight into the fascinating development of one of the most successful credit union systems in the world.

John Hume receives the Distinguished Service Award from WOCCU Board Chairman Gary Plank at the closing ceremony.
"It's no surprise so many want to be involved [in credit union work]", Taoiseach (Irish Prime Minister) Bertie Ahern told attendees during the conference's opening session. He said it reflected the "high standing" of credit unions, which "bring financial dignity" to people of modest means. Irish credit unions, he continued, "are the biggest providers of social finance in the country, and it's important to recognize that contribution."
General sessions featured keynote addresses by former President of Ireland and human rights advocate Mary Robinson, U.S. Credit Union National Association CEO Dan Mica and noted Irish economist and television personality David McWilliams. Irish Minister for Finance Brian Cowen and Iain McDonald, Director-General of the International Cooperative Alliance, also spoke to participants. Twenty breakout sessions were divided into four issue-driven tracks—strategy, finance and operations, increasing access to financial services, and issues for developing countries.
Receiving the WOCCU 2006 Distinguished Service Award, statesman John Hume said his greatest accomplishment was establishing Northern Ireland's credit union movement.
"The credit union movement hasn't boasted about what it has done," Hume said, "but when you consider how credit unions have transformed not only individual people, but the national economy…it has to be said that the credit union movement has played an incredible role in developing and shaping our country." Hume, the only person in history to have won the three most prestigious peace awards in the world – the Nobel Peace Prize, the Gandhi Peace Prize and the Martin Luther King Award, was a leading figure in Ireland's civil rights movement in addition to his credit union work.
The 2007 World Credit Union Conference will be held in Calgary, Alberta, Canada, July 29 - August 1, 2007.
El Consejo Mundial de Cooperativas de Ahorro y Crédito es la asociación gremial y agencia de desarrollo para el sistema internacional de cooperativas de ahorro y crédito. El Consejo Mundial promueve el crecimiento sustentable de las cooperativas de ahorro y crédito y otras cooperativas financieras en todo el mundo a fin de facultar a las personas para que mejoren su calidad de vida a través del acceso a servicios financieros asequibles y de alta calidad. El Consejo Mundial realiza esfuerzos de defensa activa en representación del sistema global de las cooperativas de ahorro y crédito ante organizaciones internacionales y trabaja con gobiernos nacionales para mejorar la legislación y la regulación. Sus programas de asistencia técnica introducen nuevas herramientas y tecnologías para fortalecer el desempeño financiero de las cooperativas de ahorro y crédito y profundizar su alcance comunitario.
El Consejo Mundial ha implementado 290 programas de asistencia técnica en 71 países. A nivel mundial, 57,000 cooperativas de ahorro y crédito en 105 países atienden a 217 millones de personas. Obtenga más información sobre el impacto global del Consejo Mundial en www.woccu.org.