World Credit Union Conference Begins with Grand Celebration
July 30, 2007

WOCCU Board Chairman Garry Plank welcomes attendees to the 2007 World Credit Union Conference.
Calgary, CANADA—Amid the brilliant colors of national flags from the 62 countries represented by more than 2,500 attendees, World Council of Credit Unions (WOCCU) kicked off its 2007 World Credit Union Conference on July 29 with a grand celebration. Co-hosted by the Credit Union Central of Canada (CUCC), the conference will run through August 1.
In his opening address, WOCCU Chairman Gary Plank reminded attendees that "No matter what happens around us—changes in regulations, advancements in technology or even natural disaster—our work is, at the end of the day, about the people. I am talking about the people who work on behalf of credit unions, the people who work in credit unions, and most importantly, the people we serve: our members."
Early arrivals found much more than celebration. WOCCU's fifth annual Regulators Roundtable attracted 47 credit union regulators from 15 countries across five continents. In a two-day session before the official opening of the conference, regulators of both mature and developing credit union systems exchanged experiences and focused on best practices for supporting strong credit unions at the national level.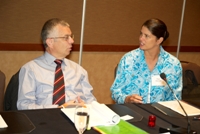 Karl Cordewener, Deputy Secretary General of the Basel Committee in Switzerland and Gigi Hyland, NCUA Board Member discuss regulatory practices at WOCCU's Fifth Annual Regulator Roundtable.
The regulators discussed broad themes such as effective regulatory policy and how to encourage modernization in the credit union sector. They also drilled down to specific areas of interest and concern, such as: interest rate risk tools, alternative capital options and crisis management. Nick Le Pan, former CEO, Office of the Superintendent of Financial Institutions in Canada shared practical tips for effective supervision of credit unions from his rich experience as a regulator in Canada. Karl Cordewener, Deputy Secretary General of the Basel Committee in Switzerland also delivered a candid presentation on practical methods for approaching Basel II.
While the regulators were meeting, scholarship winners, this year's nominees for WOCCU's Young Credit Union People Program (WYCUP) and other conference registrants age 35 and under spent the day devising strategies for credit unions around the world to invite the elusive 18-34 crowd into credit union membership. They framed their discussions around topics such as: the relevancy of cooperative values in credit union marketing to the youth market, pressing financial challenges for 18-34-year-olds, comparison of this generation to "traditional" members and future scenarios for the global credit union system.
"If today was any indication of the capacity that young leaders have, the future of the credit union system is very bright," said Darcy Mykytyshyn, 2006 WYCUP winner and co-facilitator of the session with fellow 2006 WYCUP winner Alison Carr. Mykytyshyn is Vice President, Governance and Strategy with Community Savings in Red Deer, Canada. Carr is Vice President of Corporate Development with Point West Credit Union in Portland, Oregon.
The World Credit Union Conference is an annual event organized by WOCCU and a host member country.
World Council of Credit Unions is the global trade association and development platform for credit unions. World Council promotes the sustainable development of credit unions and other financial cooperatives around the world to empower people through access to high quality and affordable financial services. World Council advocates on behalf of the global credit union system before international organizations and works with national governments to improve legislation and regulation. Its technical assistance programs introduce new tools and technologies to strengthen credit unions' financial performance and increase their outreach.
World Council has implemented 300+ technical assistance programs in 89 countries. Worldwide, 89,026 credit unions in 117 countries serve 260 million people. Learn more about World Council's impact around the world at www.woccu.org.