Worldwide Foundation Activates Disaster Relief Fund for Solomon Islands
Credit Unions Asked to Reach Out
April 04, 2007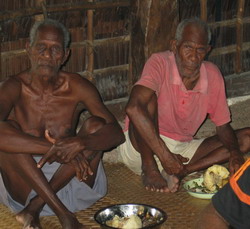 Two Solomon Island credit union members pose for a photo during a CUFA education program. Photo taken before the tsunami. Photographer: Peter Mason, CUFA
Madison, WI—World Council of Credit Unions' Worldwide Foundation has activated its disaster relief fund in an effort to help Solomon Island credit unions damaged by the tsunami that struck there on April 2nd.
"The western and Choiseul Provinces experienced one of the worst natural disasters in the country's history after a massive undersea earthquake sent a tsunami crashing into the provinces, destroying most of Gizo's business and killing 20 people. Officials expected the news to get worse, where huge waves churned by a massive earthquake wiped out two villages," reported The Solomon Star.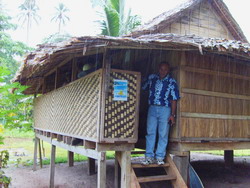 Solomon Island home (Photo taken before the tsunami) Photo provided by CUFA
Donations will help rebuild credit unions and savings clubs, replace equipment, reconstruct member accounts and make available small loans that enable members to rebuild their livelihoods. WOCCU is partnering with the Credit Union Foundation of Australia (CUFA) in creating a joint appeal to raise funds to assist the credit unions, savings clubs and members affected in the western province.
Credit union and savings club members have lost their homes and livelihoods in the devastation caused by the tsunami. More than 4,000 people are reported homeless. Thus far, CUFA staff members in the field have reported that three credit unions and four savings clubs were damaged on the island of Choiseul. In the capital city of Gizo, there were two savings clubs affected. On the outer islands of Big Soltai and Noro Kenarry eleven savings clubs and fourteen credit unions were damaged.
Brian Branch, World Council chief operating officer and CUFA staff members will be in the Solomon Islands in two weeks to evaluate how WOCCU and CUFA can work together to assist credit unions in rebuilding and aid the Solomon Islands Credit Union League.
To support the international credit union disaster relief fund to rebuild Solomon Islands credit unions, send donations to:
Worldwide Foundation for Credit Unions
5710 Mineral Point Road
P.O. Box 2982
Madison, WI 53701-2982
Funds may also be wired. Contact Valerie Breunig at 608-231-7353 or vbreunig@woccu.org for wire instructions.
World Council of Credit Unions is the global trade association and development agency for credit unions. World Council promotes the sustainable development of credit unions and other financial cooperatives around the world to empower people through access to high quality and affordable financial services. World Council advocates on behalf of the global credit union system before international organizations and works with national governments to improve legislation and regulation. Its technical assistance programs introduce new tools and technologies to strengthen credit unions' financial performance and increase their outreach.
World Council has implemented 300+ technical assistance programs in 89 countries. Worldwide, 68,882 credit unions in 109 countries serve 235 million people. Learn more about World Council's impact around the world at www.woccu.org.