Massachusetts Credit Union League Hosts Visit From Bahamas Cooperative League
April 24, 2006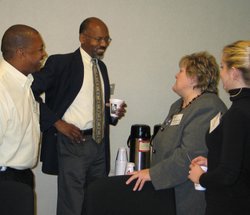 Francis Davis and Bruce Delancey chat with Marilyn Gambardella and Michelle Martin of Harvard University Employees Credit Union
Less than one year after officially signing the WOCCU International Partnership agreement, the Massachusetts Credit Union League and the Bahamas Cooperative League have successfully shared branding, awareness and marketing materials in an effort to raise the credit union profile in the Bahamas. Representatives from both Leagues have worked diligently to ensure the success of the partnership. Most recently, the Massachusetts Credit Union League hosted Francis Davis and Bruce Delancey, representatives of the Bahamas Cooperative League.
During their visit, Davis and Delancey were able to visit several credit unions and gain valuable insight into credit union operations in Massachusetts. They will be able to further promote the goals of the partnership program by sharing this insight with credit unions in the Bahamas.
On their first day in Massachusetts, they met with Credit Union Marketers during a Credit Union Brand Seminar Luncheon at the Massachusetts League Headquarters. After the Seminar, Davis and Delancey met with EverythingCU.com's Morris Partee to discuss particular branding challenges and opportunites encountered by credit unions in the Bahamas.
The second day of the visit included a tour of the Boston Firefighters Credit Union and a meeting with CEO Bernie Winne to discuss marketing, branding and other strategic credit union issues. Davis and Delancey also visited the Harvard University Employees Credit Union and met with CEO Gene Foley over lunch at the Harvard Faculty Club.
In addition to being extremely informative for both parties, the visit proved to be an excellent opportunity to cement their relationship, ensuring the continuation of a mutually beneficial relationship into the future.
World Council of Credit Unions is the global trade association and development platform for credit unions. World Council promotes the sustainable development of credit unions and other financial cooperatives around the world to empower people through access to high quality and affordable financial services. World Council advocates on behalf of the global credit union system before international organizations and works with national governments to improve legislation and regulation. Its technical assistance programs introduce new tools and technologies to strengthen credit unions' financial performance and increase their outreach.
World Council has implemented 300+ technical assistance programs in 89 countries. Worldwide, 89,026 credit unions in 117 countries serve 260 million people. Learn more about World Council's impact around the world at www.woccu.org.