New York and Puerto Rico Meet Again
NYSCUL
August 24, 2006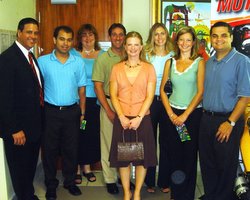 (l-r) José E. Febres Maeso, branch manager of Caribe FCU, gathers New York visitors—Juan Fernández, Tracy Conner, Michael Lanotte, Amy Kramer, Kimberly McCumber, Jennifer Montena and WOCCU's Victor Corro—for a tour of his credit union.
Latham, NY—Representatives from the New York State Credit Union League (NYSCUL) and its affiliate Covera Card Solutions visited San Juan, Puerto Rico, last week to participate in several meetings aimed at furthering an international partnership among Puerto Rican credit unions, the League, and World Council of Credit Unions (WOCCU).
While on the island, New York representatives visited Caribe Federal, Jesús Obrero and Abraham Rosa Cooperativas. Following those engagements, more than 40 participants from island credit unions participated in an informational session that explained the benefits of League membership and a variety of card programs offered by Covera that would meet the needs of their memberships.
"We couldn't have received a warmer reception or a more attentive audience than what we experienced throughout our visit to Puerto Rico," said Michael Lanotte, senior vice president and general counsel for the League. "I cannot imagine a more beneficial partnership for all parties involved given the many parallels to our credit union system and to New York and its large Hispanic population."
In addition to Lanotte, presenters from the League included: Tracy Conner, vice president, Professional Development and Member Services; Amy Kramer, vice president, Governmental Affairs, and Juan Fernández, community development coordinator.
Kim McCumber, vice president, and Jennifer Montena, director of Operations/Training, represented Covera Card Solutions. Victor Corro, WOCCU's international partnership manager, accompanied the group.
The visit expanded on a partnership discussion about business opportunities that took place last summer when representatives from Puerto Rican cooperatives visited the League with Corro. NYSCUL is one of 22 leagues participating in WOCCU's International Partnership Program.
NYSCUL has served as the trade association for the New York state's credit unions for more than 80 years. It is the fifth largest league in the country. New York credit unions have assets of more than $36 billion and more than 4.1 million members. To learn more about the League, visit www.nyscul.org.
World Council of Credit Unions is the global trade association and development agency for credit unions. World Council promotes the sustainable development of credit unions and other financial cooperatives around the world to empower people through access to high quality and affordable financial services. World Council advocates on behalf of the global credit union system before international organizations and works with national governments to improve legislation and regulation. Its technical assistance programs introduce new tools and technologies to strengthen credit unions' financial performance and increase their outreach.
World Council has implemented 300+ technical assistance programs in 89 countries. Worldwide, 68,882 credit unions in 109 countries serve 235 million people. Learn more about World Council's impact around the world at www.woccu.org.