Connecticut/Trinidad and Tobago Partnership Expands
September 19, 2006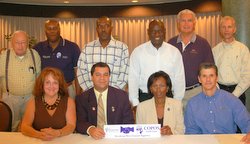 Delegates from COPOS Credit Union and Seasons FCU pose at the partnership signing ceremony. Seated are (l-r): Christine Gerritt, Seasons FCU board chairperson; David Marquez, COPOS Credit Union general manager; Beverly Nunes, COPOS Credit Union board vice president; and Keith Weimert, Seasons FCU CEO. Photo courtesy of CCUA.
Connecticut and Trinidad and Tobago further solidified their five-year World Council of Credit Unions (WOCCU) international partnership at the recent CCUA Leadership Conference with the official partnership agreement of Connecticut's Seasons Federal Credit Union and Trinidad's COPOS Credit Union Cooperative Society, Ltd.
Credit union managers and volunteers from across Connecticut met nine guests from Trinidad and Tobago's credit unions in Portsmouth, New Hampshire, for the weekend conference. Besides educational sessions, attendees had the opportunity to participate in a panel discussion on CCUA and Trinidad and Tobago's partnership experiences.
Victor Corro, WOCCU international partnerships manager, talked about the importance of sharing ideas across borders.
"There are many and varied reasons contributing to this great success [of the credit union movement]," he said. "But the one most closely related to credit union partnerships is cooperation."
This is CCUA and Trinidad and Tobago's second credit-union-to-credit-union partnership. Personal Care Credit Union (Connecticut) and Lever Brothers Credit Union (Trinidad and Tobago) signed the first of such agreements following a Trinidad and Tobago delegation visit to Connecticut last year. Earlier this year, Connecticut delegates visited Trinidad and Tobago looking for another partnership opportunity, which they found in COPOS Credit Union. Credit unions sign individual agreements based on similar membership demographics.
There are currently 22 active WOCCU international partnerships and two national associations progressing toward formal agreements. For more information on international partnerships, contact Victor Corro, vcorro@woccu.org.
World Council of Credit Unions is the global trade association and development agency for credit unions. World Council promotes the sustainable development of credit unions and other financial cooperatives around the world to empower people through access to high quality and affordable financial services. World Council advocates on behalf of the global credit union system before international organizations and works with national governments to improve legislation and regulation. Its technical assistance programs introduce new tools and technologies to strengthen credit unions' financial performance and increase their outreach.
World Council has implemented 300+ technical assistance programs in 89 countries. Worldwide, 68,882 credit unions in 109 countries serve 235 million people. Learn more about World Council's impact around the world at www.woccu.org.