Capitalize on Credit Union Advantage, Russian CU League Members Told
U.S. CU Delegation Urges Calm, Restrained Approach to Global Economic Crisis
April 30, 2009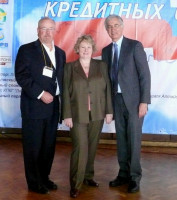 U.S. credit union executives (from left) Rod Taylor, Anne Cochran and Eric Richard attended the Russia CU League annual general meeting.

SOCHI, Russia—Russian credit unions suffering the effects of the global economic crisis can learn from problems that have plagued financial institutions in the United States. That's the message a delegation of U.S. credit union executives brought to the Third Russian Credit Union Forum, sponsored by the Russian Credit Union League (RCUL) last week in Sochi, a city on the Black Sea. Lessons learned by U.S. credit unions formed the basis for advice and guidance given during the three-day event.
"This is a tough time for U.S. credit unions, as it is for financial institutions worldwide," said Anne Cochran, president and CEO of the Louisiana Credit Union League and member of World Council of Credit Unions' (WOCCU) board of directors. "If we in this room have any advantage over our competitors, it is that we represent financial institutions that are member-owned and member-operated."
Cochran, whose league has partnered with RCUL as part of WOCCU's International Partnerships Program since September 2007, was joined by fellow U.S. delegates Eric Richard, executive vice president and general council of CUNA, and Rod Taylor, president and CEO of Barksdale Federal Credit Union, Bossier City, La. The trio shared perspectives on challenges faced by the U.S. credit union movement, as well as ideas and techniques regarding management and governance issues.
"U.S. credit unions face a complicated situation," Richard said. "We did not contribute to the current crisis, but we are suffering collateral damage from it. At my organization, which is the U.S. counterpart of the Russian League, we have been urging credit unions to take a calm and restrained approach to the situation."
CUNA's Eric Richard describes U.S. credit union challenges to delegates at the Russia CU Leage annual general meeting.
Forum topics covered numerous subjects, including external regulation and self-regulation, legislation, accounting, taxation and governance in crisis situations. The meeting drew more than 160 credit union leaders from all regions of Russia and several neighboring countries.
In addition to updating attendees on WOCCU, which counts RCUL as one of its member organizations, Cochran spoke at length about good governance and the importance of strong supervisory oversight. Richard outlined in detail the struggle U.S. credit unions currently face, drawing some parallels between situations faced by the U.S. and Russia. Taylor addressed the importance of capital and the value of member ownership. Other session topics included developing a cooperative network, managing diversity and accounting and taxation issues facing cooperative systems.
Dealing with the global economic crisis proved to be a pervasive discussion subject throughout the event. U.S. delegates expressed cautious optimism about the strength and stability of credit unions, noting signs that an economic turnaround may be forthcoming.
"Patience and wisdom are the orders of the day," Richard explained. "We are just beginning to see some small signs of possible recovery in the economy. Our goal is to hang on as the environment improves."
Cochran agreed. "It is my hope that through our combined strength credit unions will continue serving members well no matter what economic issues come to bear on the global credit union movement."
Prior to the forum, Cochran met with Vadim Kalinichev, RCUL CEO, to help the league develop strategies to face new challenges. RCUL offers members a variety of services, including loan and savings insurance and regional credit union association development. The league has 160 credit union members and eight credit union association members that collectively serve more than 268,000 members.
World Council of Credit Unions is the global trade association and development agency for credit unions. World Council promotes the sustainable development of credit unions and other financial cooperatives around the world to empower people through access to high quality and affordable financial services. World Council advocates on behalf of the global credit union system before international organizations and works with national governments to improve legislation and regulation. Its technical assistance programs introduce new tools and technologies to strengthen credit unions' financial performance and increase their outreach.
World Council has implemented 300+ technical assistance programs in 89 countries. Worldwide, 68,882 credit unions in 109 countries serve 235 million people. Learn more about World Council's impact around the world at www.woccu.org.